Better Load Distribution for Double-deckers?
20th January 1950
Page 41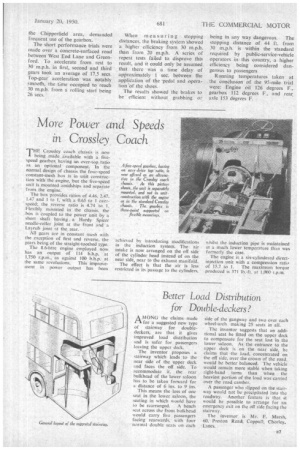 Page 41, 20th January 1950 —
Better Load Distribution for Double-deckers?
Close
AMONG the claims made for a suggested new type of stairway for double deckers, are that it gives improved load distribution and is safer for passengers leaving the upper deck.
The inventor proposes a stairway which leads to the mar side of the upper deck and faces the off side. To accommodate it, the rear bulkhead of the lower saloon has to be taken forward for a distance of 6 ins. to 9 ins.
This means the loss of one seat in the lower saloon, the seating in which would have to be rearranged. A bench scat across the front bulkhead would carry five passengers facing rearwards. with four normal double Seats on each side of the gangway and two over each wheel-arch. making 25 seats in all.
The inventor suggests that an additional seat be fitted on the upper deck to couipensate for the seat lost in the lower saloon. As the entrance to the upper deck is on the near side, he claims that the load, concentrated on the off side, over the crown of the road. would be better balanced. The vehicle would remain more stable when taking right-band turns than when the heaviest portion of the load was carried over the road camber, A passenger who slipped on the stairway would not be precipitated into the roadway. Another feature is that it would be possible to arrange for an emergency exit on the off side facing the stairway.
The inventor is Mr. F. Marsh, 60, Preston Road, Coppull, ChOrley. Lancs.