Haulage at its Most Difficult
20th January 1950
Page 37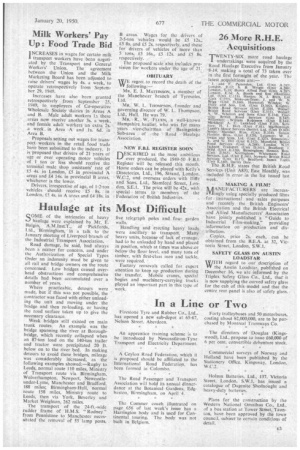 Page 37, 20th January 1950 —
Haulage at its Most Difficult
Close
SOME of the intricacies of heavy haulage were explained by Mr, E. Bulgin, A.M.Inst.T., of Pickfords, Ltd., Birmingham, in a talk to the January meeting of Liverpool branch of the Industrial Transport Association.
Road damage, he said, had always been a matter for concern, and under the Authorization of Special Types Order an indemnity must be given to all rail and bridge owners on the route concerned. Low bridges caused overhead obstructions and comprehensive details had been accumulated over a number of years.
Where practicable, detours were made, but if this was not possible, the contractor was faced with either unloading the unit and moving under the bridge and then re-loading, or having the road surface taken up to give the necessary clearance.
Weak bridges still existed on main trunk routes. An example was the bridge spanning the river at Boroughbridge, which recently collapsed when an 87-ton load on the 140-ton trailer and tractor were precipitated 20 ft. below on to the river bed, In making detours to avoid these bridges, mileage was considerably increased, as the following examples showed:--Rugby to Leeds, normal route 110 miles, Ministry of Transport route via Birmingham, Wolverhampton, Newport, Newcastleunder-Lyme, Manchester and Bradford, 188 miles; Birmingham-Hull, normal route 158 miles, Ministry route to Leeds, then via York, Beverley and Market Weighton, 262 miles.
The transport of the 24-ft-wide rudder frame of H.M.S. " Rodney " from Pennistone to Manchester necessitated the removal of 55 lamp posts,
five telegraph poles and. four garden walls. , Handling and erecting heavy loads were ancillafy to transport, Many". heavy units, because of lack of cranage,. had to be unloaded by hand and placed in position, which at times was above-or below the floor level, and many tons of timber, with first-class men and tackle, were required.
Factory removals called for expert attention to keep up production during the transfer. Mobile cranes, special bogies and machinery-carrying truck; played an important part in this type of work.
Tags
Locations
:
Manchester
,
Beverley
,
York
,
Newcastleunder-Lyme
,
Market Weighton
,
Birmingham
,
Bradford
,
Wolverhampton
,
Liverpool
,
Pennistone
,
Newport
,
Leeds