MAKE YOUR OWN GASKETS A N interesting feature of a
20th January 1950
Page 36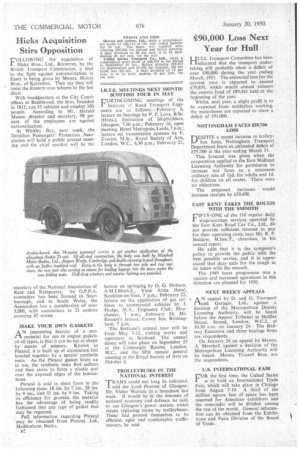 Page 36, 20th January 1950 —
MAKE YOUR OWN GASKETS A N interesting feature of a
Close
new material for use in engine gaskets of all types, is that it can be cut to shape by means of scissors. Known as Plexeal, it is built up of aluminium foil bonded together by a special synthetic resin. As the Plexeal gasket heats up in use, the synthetic resin first softens and then cures to form a plastic seal over the exposed edges of the laminations.
Plexeal is sold in sheet form in the following sizes: 18 ins. by 7 ins., 28 ins. by 9 ins., and 35 ins. by 9 ins. Taking its efficiency for granted, the material has the advantage of being readily fashioned into any type of gasket that may be required.
Full information regarding Plexeal may be obtained from Plexeal, Ltd., Haddenharn. Bucks.
n2