Outlets for Indivi duality in B.T.C.
20th January 1950
Page 35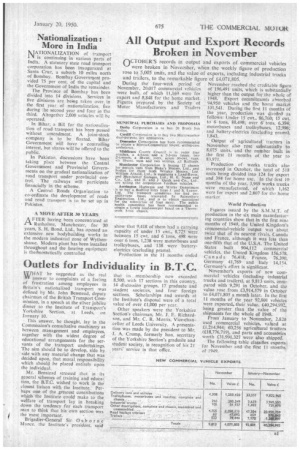 Page 35, 20th January 1950 —
Outlets for Indivi duality in B.T.C.
Close
WHAT he suggested as the real answer to complaints of a feeling of frustration among employees in Britain's nationalized transport was defined by Mr. John Benstead, deputy chairman of the British Transport Commission, in a speech at the silver jubilee dinner to the Institute of Transport's Yorkshire Section, at Leeds, on January 10.
This answer, he thought, lay in the Commission's consultative machinery as between management and employees, together with the widest degree of educational arrangements for the servants of the transport undertakings. The aim should be to develop, side by side with any material change that was decided upon, that moral responsibility which should be placed entirely upon the individual.
Mr. Benstead stressed that in its general schemes of training and education, the B.T.C. wished to work in the closest liaison with the institute. Perhaps one of the greatest contributions which the Institute could make to the welfare of transport lay in breaking down the tendency for each transport man to think that his own section was she most important.
Brigadier-General Sir. Osb or rl'e Mance. the Institute's president, said
that its membership now exceeded 8,500, with 17 sections in this country, 14 diseussiOn groups, 17 graduate and student societies, and four foreign sections. 'Scholarships and awards at the Institute's disposal were of a total value of over £1,000 per year.
Other speakers were the Yorkshire Section's chairman, Mr. J. F. Richardson, and Mr. C. R. Morris, Vice-chancellor of Leeds University. A presentation was made by the president to Mr. J. A. Crump, formerly hon. secretary of the Yorkshire Section's graduale and student society, in recognition of his 21 years' service in that office.