Men in the News
20th January 1950
Page 34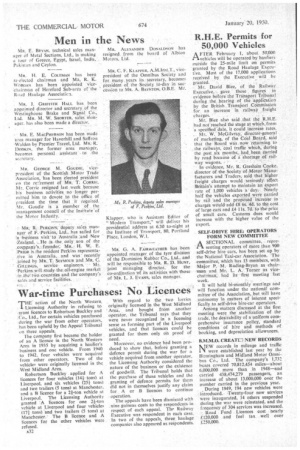 Page 34, 20th January 1950 —
Men in the News
Close
Keywords :
MR. E. BRYAN, technical sales manager of Metal Sections, Ltd., is making a tour of Greece, Egypt, Israel, India, Pakistan and Ceylon.
MR. H. E. COLEMAN has been re-elected chairman and Ma, R. K. WnacesN has been appointed viceeaairman of Hereford Sub-area of -the Road Haulage Associatica.
. MR. J. GRIFFITH HALL has been appointed director and secretary, of the Westinghouse Brake and Signal Co., Lid. MR. M. W. SHORTER, sales hien:ager. has also been made a director.
Ma. E. MacPtiotsost has been made area manager for Haverhill and Saffron -Walden by Premier Travel., Ltd. Mk. R. Dormers, the former area manager, becomes personal assistant to the secretary.
Ma. GEORGE M. GOUDIE, vicepresident of the Scottish .Motor Trade Association, has been elected president on the rel-irement of MR: T; CORRIE" Mr. Corrie resigned last week because his business activities no • longer permitted him to devote to the office of president the time that it required. Mr. Goudie is a member of. the management council of the Institute 'of the Motor Inalustay.
•• Ma, R. PetiKtaFs•,"dep-uty sales manager of F. Perkins, Ltd., .has sailed for !a -business visit 'to Australia :and New -Zealand. ....He js .the, only son of the ,coaaparty's.; f ride r; MR.: H. W. E. Pam is the resident Perkins representaaive in Australia. and was recently
• joined by ML .T. SEYMOUR and Ma. C.
• GILLINOS, service engineers. Mr. -Perkins will.study the, oil-engine market
• in .the i:cnuhtrigs and the company's sa!es and service facilities.
M IL ALEXANDER DOIsZALDSQN has resigned from the board of Albion Motors, Ltd.
MR. C. F. KadteeEtt, A.M.Inst.T., vicepresident of the Omnibus Society and for many years its secretary, becomes • president of the Society to-day in succession to MR. A. BAYNTON, O.B.E. Mr.
Klapper, who is Assistant Editor of " Modern Transport," will deliver his presidential address at 6.30 to-night at the Institute of Transport, 80, Portland Place, London, W.I.
• MR. G. A. FAIR 1,,4 EATHER has been .appointed manager of the tyre division of the Dominion Rubber Co, Ltd., and will be responsible to MR. R. D. HUNT, -joint managing director. for the .0-ordination aaf its activities with those of Mk. L. J. Evalas; .saleS Manager.