R.H.E. Opposes Heavy Haulier: Witnesses Questioned on Rates
20th January 1950
Page 33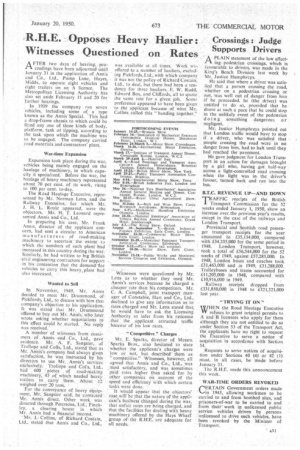 Page 33, 20th January 1950 —
R.H.E. Opposes Heavy Haulier: Witnesses Questioned on Rates
Close
A FTER two days of hearing, .proceedings have been adjourned until January 31 in the application of Annis and Co., Ltd., Pump Lane, Hayes, Middx, to operate. eight vehicles and eight trailers on an A licence. The Metropolitan Licensing Authority has also set aside February 13 and 20 for 'further hearings.
: . 1939 the company ran seven vehicles, including some of a type known as the Annis Special. This had a .drop-frame chassis to which could be fitted any one of three kinds of body, platform, tank or tipping, according to the task Upon which the machine was to be engaged. The company carried road materials and contractors' plant.
War-time Expansion Expansion took place during the war, vehicles being mainly engaged on the -haulage of machinery, in which oapacity it specialized,. Before the -war, the haulage of heavy machinery represented about 70 per cent. of its work, rising to 100 per cent. to-day.
The Road Haulage Executive, represented by Mr. Norman Letts, and the -Railway Executive, for which Mr. J.• H. L. Royle appeared, were the objectors. Mr. H. T. .Leonard represented Annis and Co., Ltd.
In preparing his case, Mr. Frank Annis, director of the applicant concern, had sent a circular to American manufacturers of road-making machinery to ascertain theextent to which the numbers of such plant had
• increased in this country during the war. Similarly, he had written to big British
• vir il engineering contractors for support in his contention that the demand-fOr -vehicles to carry this heavy,plant had also increased..
Wanted to Sell
In November, '1949, Mr. Annis decided to .meet Mr. Drummond, of' Pickfords, Ltd., to discuss with hint that company's objection to his application.. It was stated that Mr. DrummOnd offered: to buy out Mr. Aim's; who lath., wrote asking whether negotiations to this effect Could bc.started...Na;reply
was eti received.'
A number of witnesses 'front stiirners -of. Minisand -Co., Ltd" gave
. evidence. Mr, A. F. Sangster,_ of
Trollope and Colls,'Ltd., stated 'that as Mr. Annis's Company had always given satisfaction, he was instructed. by his directors to use Mr..Annis's services ekclusiVely: Trollcipe and CjlIs, Ltd., had 600 plebes . of, road-making Machinery, 45 .or.whiCh •heeded heav'y trailers . to . carry' :thein..• About 12
weighed over 20 tons, • .
For the .conveyance heavy..ajuipment, Mr. Sangstersaid,' he .contacted Mr. Annis direct, Other Work was directed through Petersons, Ltd., Finchley, a clearing house in which Mr. Annis had a financial interest.
• Mr. J. Collins; of Richard Costa in, Ltd.. stated that Annis and Co., Ltd., was available at all times. •Work was offered to a number of hauliers, excluding Pickfords, Ltd.', with which company it was not the policy of Richard Costaio, Ltd., to deal, but there had been a tendency for three hauliers, E. W. Rudd, Edward Box, and Cliffords, all to quote the same rate for a given job. Some preference appeared to have been given to the applicant because of what Mr. Collins called this banding together."
Witnesses were questioned by Mr. Letts as to whether they used Mr. Apnis's services :because he charged a cheaper rate than his competitors. Mr. C. A. Campbell, joint transport manager of Constable, Hart and Co., Ltd., declined to give anyinformation as to Jates.charged and Mr. Letts stated that he would have to ask the Licensing' Authority to infer from his reticence that the applicant attracted traffic because of his low rates.
" Competitive." Charges
Mr. E. Sparks, director of Messrs. Sparks Bros., also hesitated' to state :whether lie applicant's charges were low or hot, but described" them as :" competitive,' Witnesses, however, all agreed that Annis and Co, Ltd., was most satisfactOry, and Was sometimes paid rates higher than asked for by tither companies On aceount of the -speed and efficiency With which certain tasks were done.
It wbuld appear -that the objectors' case will be that the nature of the applicant's litt:iiness'cliatiged' during the war, that unfair rates are being charged, and that the facilities for dealing with heavy machinery offered by the Hays Wharf group of the RITE. are adequate for all needs.