Crossings : Judge Supports _Drivers
20th January 1950
Page 33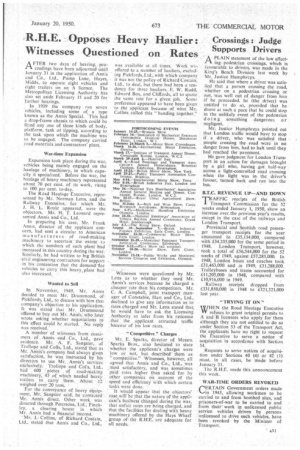 Page 33, 20th January 1950 —
Crossings : Judge Supports _Drivers
Close
A PLAIN statement of the law affect-t" is ing pedestrian crossings, which is favourable to drivers, was made in the King's Bench Division last week by Mr. Justice Humphreys.
He said. that where a driver was satisfied that a person crossing the road, whether on a pedestrian crossing or not, was well out of danger from him -if he proceeded, he (the driver) was entitled to do so, provided that he drove at such a pace that he could stop in the unlikely event of the pedestrian doing something dangerous o r negligent.
Mr. Justice Humphreys pointed out that London traffic would have to stop if a driver, who was satisfied that people crossing the road were in no danger from hint, had to halt until they had reached the-pavement.
He gave judgment for London-Transport in an action for damages brought by a girl who, having got half-way across a light-controlled road crossing when the light was inthe driver's favour, turned back and ran into the bus.
B.T.C. REVENUE UP—AND DOWN
TRAFFIC receipts of the British 1 Transport Commission for the 52 weeks ended January 1, 1950, show an increase over,the previous year's results, except in the case of the railways and London Transport.
Provincial and Scottish road passenger transport receipts for the year amounted to £35,134,000, compared with £34,335,000 for the same periodin 1948. London Transport, however, took a total of £56,544,000 for the 52 weeks of 1949, against £57,285,000. In 1948, London buses and coaches took £.31,463,000 and in 1949, £31,288,000. Trolleybuses and trams accounted for £11,205,000 in 1948, compared with £10,916,000 in 1949.
Railwaydropped from £331,850,00 in 1948 to £321,321,000 last year.
" TRYING IT ON" WHEN the Road Haulage Executive VV refuses to grant original permits to A and B licensees who apply for them although they are not entitled to do so under Section 53 of the Transport Act, the applicants have no right to request the Executive to serve a notice acquisition in accordance with Section 54.
Requests to serve notices of acquisition under Sections 40 (4) or 42 (1) must, in all cases, be made before January 31.
The R.H.E. made this announcement this week.
WAR-TIME ORDERS REVOKED
pERTAIN Government 'orders made
in 1945, allowing workmen to be carried to and from bombed sites, and prisoners-of-war to be carried to and from their work in unlicensed public service vehicles driven by persons 'unlicensed to drive such vehicles, have been; revoked by the Minister of Transport.