Passing Comments
20th January 1950
Page 30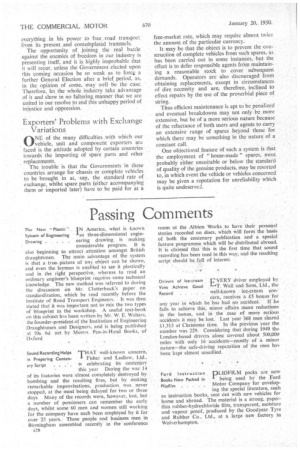 Page 31
Page 30, 20th January 1950 —
Passing Comments
Close
The New "Plastic " IN America, what is known System of Engineering as three-dimensional engin Draw;ng , . , eering drawing is making considerable progress. It is also beginning to attract attention amongst British draughtsmen. The main advantage of the system is that a true-picture of any object can he shown, and even the layman is enabled to see it plastically and in the right perspective, whereas to read an ordinary engineer's blueprint requires some technical knowledge. The new method was referred to during the discussion On Mr. Clutterbucles paper on standardization, which he read recently before the Institute of Road Transport Engineers. It was then stated that it was important not to mix the two types of blueprint in the workshop. A useful text-book on this sub iect has been written by Mr. W. E. Walters, the founder-president of the Institution of Engineering Draughtsmen and Designers, and is being published at 10s. 6d net by Messrs. Pen-in-Hand Books, of 'Oxford Sound Recording Helps THAT well-known concern, in Preparing CentenI Fisher and Ludlow. Ltd..
ary Script . is celebrating its centenary this year During the war 14 of its factories were almost completely destroyed by bombing and the resulting fires, but by making remarkable improvisations, production, was never stopped, at the most being delayed for two or three days Many of the records were, however, lost, but a number of pensioners can remember the early days, whilst some 60 men and women still working for the company have each been employed by it for over 25 years.. These people and business men in Birmingham assembled recently in theconference
'08
room at the Albion Works to have their personal stories recorded on discs, which Will form the basis of both the centenary publication and a special feature programme which will be distributed abroad. It is claimed that this is the first time that sound recording has been used in this way, and the resulting script should be full of interest.
Drivers of Ice-cream VVERY driver employed by Vans Achieve Good Wall and Sons, Ltd., the
Record well-known ice-cream con
cern, receives a ES bonus for any year in which he has had no accident. If he fails to achieve this, minor affairs mean reductions in the bonus, and in 'the ease of more serious accidents it may be lost., Last year 368 men shared .11,313 at Christmas time. In the previous year the number was 229. Considering that during 1949 the London-based drivers alone covered about 500,000 miles with only 16 accidents—mostly ofa minor nature—the safe-driving reputation of the men has been kept ahhost unsullied.
Ford Instruction joLIOFILM packs are now Books Now Packed in I being used by the Ford Pliofilm Motor Company for envelop ing the special literature, such as instruction books, sent out with new vehicles for home and abroad. The material is a strong, paperthin rubber-hydrochloride film, transparent, moisture and vapour proof, produced by the Goodyear.Tyre and Rubber Co., Ltd., at a large new factory in Wolverhampton. The Relative Safety THE ' comparative figures of Various Types of concerning persons killed or Vehicle injured in respect of different
classes of vehicle can be of considerable interest. In connection with London Transport, the country buses are the safest, for in the year 1948 they were involved in accidents result ' ing in four people being killed and 204 injured, the former representing .085 per million miles and the latter 4.36. Next came coaches with seven and 158 respectively, representing .317 and 7.16 per million miles. In the case of the central buses, there were 69 killed and 1,986 injured, the corresponding figures per million miles being .285 and 8.22. Trolleybuses accounted for 30 killed and 853 injured, giving figures of .378 and 10.75. Trams showed up very badly, 16 being killed and 665 injured, the figures per million miles being .47 and 19.54.
Advantages of Black IIISITING a coach operator Over Bright Colours v recently we remarked that Cause Confusion upon the pleasant green shade
in which his vehicles were painted. "Actually, it's blue," he told us. Fear of having suddenly gone colour-blind gripped us until our friend informed us that the paint manufacturer called this particular shade a kind of blue—a matter which led to discussion with the police when they read "blue" on the vehicles' licences. Another case of this type concerns a popular private car now in production, numbers of which are painted in, what to us, looks like a pale pink. However, the maker calls this shade "stone," the police again begging to differ with the description grey." Perhaps Henry Ford was right when he said that the public liked any colour so long as it was black; at least there can be no mistaking it