Restriction-If Any-Must Be Equal S UGGESTING a solution of the railways
20th January 1939
Page 50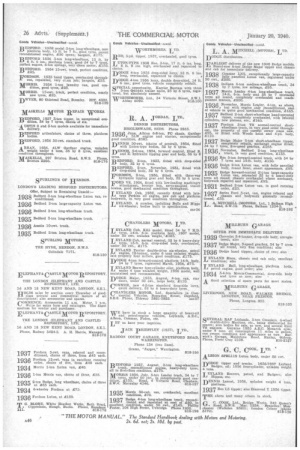 Page 50, 20th January 1939 —
Restriction-If Any-Must Be Equal S UGGESTING a solution of the railways
Close
difficulties, B.R.F. says: " Railway reorganization should proceed in the direction of centralizing freight work on the larger stations. and making proper use of the greater effective radius of motor vehicles for collection and delivery, and in this regard a welcome approach to coordination might be made by the railways in the direction of negotiating suitable arrangements with existing independent hauliers,"
This observation is contained in a memorandum of the evidence submitted by the Federation to the T.A.C., on the railway claim for freedom in rate fixing. It would appear that the whole of the evidence is level headed and extremely searching. . The theme of the B.R.F.'s submissions is that if the railways have any reasonable grievance, then there is no desire to obstruct the removal of
the causesfor such grievances. But (and it is a big " but ") if the railways were to succeed in having their present restrictions relaxed or removed, while road transport failed to receive similar treatment, the result might be the annihilation of an independent roadhaulage industry and the re-establishment of a railway monopoly.
Such a state of affairs would deprive the trader of effective freedom of choice of facilities, and diminish the ability of the transport system as a whole adequately to cope with the problems which would arise in the event of a national emergency. If, however, the removal of restrictions should be undertaken, it is essential that it should proceed peal: passu for road and rail alike. Any unilateral removal of railway restrictions might well prove disastrous."