Record Crowd Hears S.T.R. at Hanley A T Hanley, recently, S.T.R.,
20th January 1939
Page 50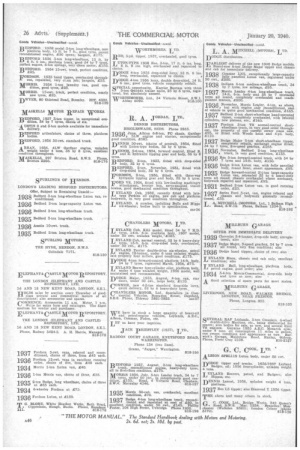 Page 50, 20th January 1939 —
Record Crowd Hears S.T.R. at Hanley A T Hanley, recently, S.T.R.,
Close
The Commercial Motor costs expert, addressed members of A.R.O., the occasion being his third appearance in this town. It is worthy of note that the attendance was a record, nearly 70 being present. The appreciation of what S.T.R. had to say is indicated by the foregoing facts, and Mr. J. W. Beresford; who was present, voiced the opinion that it was up to members of A.R.O. to register their appreciation by supporting The Commercial Motor.
Mr. T. Caddy was in the chair, and prior to S.T.R.'s address he dealt with matters arising from the anti-rail propaganda which A.R.O. is conducting. In Hanley it is proposed to hold a demonstration at some early date in the form of a vehicle parade.
S.T.R. indicated the basic principle on which a rates structure should be erected, by citing figures for the operation of vehicles carrying 4-5-ton loads
over various weekly mileages. His figures were accepted by those present, and the utility of the information he gave was acclaimed. In the course the discussion the problem of longdistance haulage arose, and figures were given for the operation of an eight-wheeled maximum-load petrolengined vehicle. It was disclosed that in order to earn a reasonable revenue after paying all expenses a vehicle of this type should bring in a revenue of not less than Is. 5d. per mile run. Expressed in terms of a rate per ton per 100 miles. this was shown to be equivalent to not less than 10s. It was disclosed that there were hauliers in the district who were carrying loads in vehicles of this type at as little as 4s. 6d. per ton per 100 miles run.
Other matters that arose related to the probable course of action of the railway eompaaies if they obtained freedom to quote rates, and the prospects of the producer-gas vehicle. Certain suggestions for making The Commercial Motor Tables of Operating Costs more useful were accepted.