of the week (continued)
20th January 1939
Page 24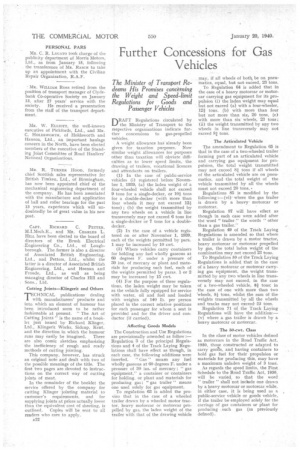 Page 24, 20th January 1939 —
of the week (continued)
Close
NEW INDUSTRIES NEED MORE MOTORS.
WHEN Mr. F. W, Riches, haulier, W Hockham, Norfolk, applied to the Eastern Licensing Authority, Sir Haviland Hiley, for additional A-licence facilities, it was stated that new industries which had sprung up in the Thetford district were providing more work for the applicant. The industries mentioned were the production of asparagus on three estates, also those of frozen rabbits and pelts. Other work consisted of the collection and delivery of game. All these products were carried by the applicant to the London market. Authority was given to delete one vehicle from the existing licence and to put on two .extra vehicles.
Business Change-over in Scotland.
THE business of Mr. R. H. Drummond, road haulier, Fort William, has been acquired by David MacBrayne, Ltd., Glasgow, and goods are now being shipped at the roadtransport depot of the Clyde and Campbeltown Shipping Co., Ltd., 171175, Clyde Street, Glasgow.
Western Business Transfer.
BRISTOL HAULAGE CO., LTD., 72, Feeder Road, Bristol, is purchasing the business of R. Hobbs and Co., and has made application, in the Western Area, for an A licence for 14 vehicles, the aggregate weight being 33 tons 7 cwt. In addition, application has been filed for a B licence for two vehicles, with an aggregate weight of 4 tons I cwt.
A Hauliers' Co-operative Group.
LAST week, a meeting was held of LA the Co-operative Group of A. Saunders and Son (Harpenden), Ltd., and the following officers were elected for 1939:—President: Councillor P. R. Williams (chairman of the Northern Sub-area of the Metropolitan Area of A.R.0.); chairman: Mr. E. B. Howes; vice-chairman: Mr. A. E. Meekes; secretary: Mr. C. W. Culley; legal adviser: Mr. H. T. Lennard.
New Reinforced Rubber Bush.
A NEW type of rubber bush has made its appearance, which differs from existing types in that it is internally reinforced by a spring-steel spiral, to which the rubber is perfectly bonded. Claims made for this bush, which is a French invention and is known as the Oscillith, include the following points: that it can be fitted and demounted quickly, that after clemounting it can be used again, that its housing and core do not need to be machined, and that it ensures precise concentricity.
Oscillith bushes are now being manufactured by Wilmot-Breeden, Ltd., B14 Camden Street, Birmingham, 1, from which company a booklet in which the bush is fully described and illustrated • can be obtained.
Almost a Contra Account.
AS the result of a lorry making excessive noise, and at the same time being without means for giving audible warning of approach, the driver was charged with the two offences at Keighley police court last week, and was fined 10s.!
Forth Road-bridge Appeal.
PARLIAMENT is to be asked to give permission to local authorities in Scotland, to proceed with the erection of a road bridge over the Firth of
Forth, at South Queensferry. This was revealed at a conference of local authorities in Edinburgh, last week. A Bill will be submitted to Parliament at an early date, and it is believed that the Bill will ask the Government to shoulder three-quarters of the cost.
Dinner to Mr. A. de Turcic.heim. IN recognition of his great services as I secretary of the Tramways, Light Railways and Transport Association, this body is giving a dinner to Mr. A. de Turckheim at the Savoy Hotel, London, on February 15. Sir Arthur Stanley, the president, has promised to take the chair. RAILWAYS WOULD EAT AND KEEP CAKE.
WITH reference to the paragraph concerning The Bristol Haulage Co., Ltd., which we published last week, we have been asked by this company to point out that it has had its licences granted for the full term r.t five years from October 1, 1938, and that there was no railway objection.
The case actually concerned an associated concern, L. H. Dimond and Co., Ltd., which applied for the renewal r f its A licences, to which the G.W.K. objected, on the grounds that, as the railway had abstracted certaintraffic by means of "agreed charges," the vehicles displaced were redundant, and should be removed from the licence. The Dimond concern proved, however. that the tonnage carried had actually increased, and the railway objection was shown to be valueless.
Engineer.works Manager Wanted.
AN experienced engineer-works manager is required for the road transport and quarry plant of an important contracting concern. Applicants should have good knowledge of steam, petrol and oil engines, full engineering-shop experience, and Le capable organizers and good disciplinariaus. Letters should be addressed " Quarry," care of Editor.
Tags
People
:
H. T. Lennard
,
Haviland Hiley
,
R. H. Drummond
,
A. E. Meekes
,
Bush
,
A. de Turcic
,
P. R. Williams
,
A. de Turckheim
,
E. B. Howes
,
C. W. Culley
,
Arthur Stanley