Haulier Gets the Verdict
20th January 1939
Page 24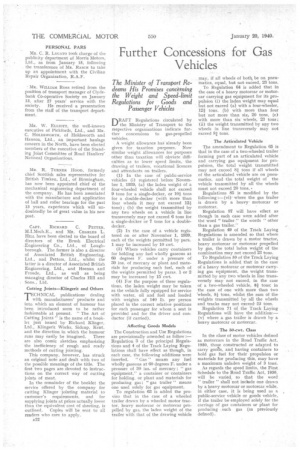 Page 25
Page 24, 20th January 1939 —
Haulier Gets the Verdict
Close
JUDGMENT was given, last Friday, in favour of Burn Transit, Ltd., haulage contractor, Tooting, in the action brought by it, at Whitechapel County Court, against G. Scammell and Nephew, Ltd., Fashion Street, London, E.1. The case first came before his Honour Judge Lilley on July 22.1938.
The plaintiff, Burn Transit, Ltd., claimed £26 Is. 10d. (which, it was alleged, it had to pay to the defendant, under protest, to obtain the delivery of certain goods) and £33 damages for unlawful detention of the goods in question. The total sum claimed was amended to £48 6s, 9d., and judgment for this sum was entered for Burn Transit, Ltd" with costs.
When the case was opened in July, Mr. A. F. Engelbach, for the plaintiff, said it required three tipping lorries and the purchase was arranged through Mayday Motors, Ltd., local distributor at Croydon, and it arranged for the purchase with J. Olding and Co., Ltd. The latter concern effected the purchase through Dodge Bros., Ltd., which obtained the extra lorries or trailers from Scammell and Nephew, Ltd. The vehicles were delivered in June, 1937. Some time before November, trouble arose with a spring shackle bracket. This was repaired by Dodge Brothers, Ltd., free of charge, although that company said it was not its job. When another shackle gave trouble, the lorry was sent to Dodge Bros. • Ltd., which effected the repair and made a charge of £4; this the plaintiff refused to pay.
Mr. Engelbach said that, at a meeting on February 3, 1938, Mr. F, I. Cook, then sales manager of Scammell and Nephew, Ltd., said that the company would do all the necessary repairs free of charge. On February 14, said Mr. Engelbach, Scammell and Nephew notified the plaintiff that the work had been done, but that it was holding up delivery against amounts outstanding. Eventually the money was paid under protest, and the lorry delivered.
The defendant said that it did not agree to remedy free of charge any alleged defects.
Judge Lilley reviewed the evidence, and said that he believed the plaintiff's witnesses, who had given their evidence with complete veracity and in a manner conspicuously fair to the
defence. Certain evidence given by defendant company's witnesses was, he said, false.
NOT SUCH A "GENTLEMAN'S AGREEMENT "?
THAT objection by the railway companies to the granting of an A licence was a breach of a verbal agree-. ment was suggested by Mr. T. D. Corpe when L. H. Dimond and Co., Ltd., applied to the Western Licensing Authority for the renewal of an A licence for 14 vehicles and two trailers. It was stated that Dimond and Co., Ltd., operated a service between Bristol, London and Kew, and Bristol and South Devon. One of its principal customers were Messrs. Purnell, of Paulton. This company had entered into an agreement with the railway company for an agreed charge to become effective on December 5, 1938. The apparent effect of this agreed charge upon the applicant was that whereas, in 1937, it carried 5,249 tons and earned £5,082, in 1938 it carried 5,320 tons and earned £4,855.
On behalf of the railway companies, Mr. R. G. Plowman said the main abjection of the Great Western Railway Co. was that the natural inference was that because of the agreed charge, certain of the vehicles of Dimond and Co., Ltd., were now redundant.
" It now appears that the effect of the agreed charge was utterly useless and means nothing at all," he said. Mr. H. Trevor-Morgan, K.C., said he found no over-riding circumstances that he ought to take into consideration, and he granted the application.
Carried Motor Boat Under Trade Licence.
ANappeal by Superintendent John Dark, of the Wimborne Police, was allowed by Lord Hewart and Justices Charles and Singleton in a King's Bench Divisional Court, last week, in a case of interest to repairers and manufacturers.
Supt. Dark claimed that Blandford justices had gone wrong in law, in dismissing an information which alleged that the Western Motor and Cartage Co. (Bristol), Ltd., Bristol, had used a vehicle, on February '25, 1938, under a general trade licence for a purpose other than that for which the licence was issued.
Sir Shirley Worthington Evans, for Supt. Dark, stated that a lorry owned by the company was pulling a trailer on which was a motor boat, en route from Poole to the company's works at Bristol, where it was intended that its engine should be overhauled. The lorry was used with general-licence trade plates.
It was contended that the vehicle was not being used for a purpose connected with the business of a manufacturer of, repairer of, or dealer in, mechanically propelled vehicles. The words "any purpose , connected With the business" referred only to motor vehicles, etc., and not numerous ancillary purposes; and a motor boat was not a mechanically propelled vehicle.
The company, however, submitted that, as the motor boat's engine was for repair in the course of its business, no offence had been committed. The magistrates accepted that contention and dismissed the information.
The appeal was allowed, with costs. Lord Hewart said the regulations did not give the company latitude to use the licence for any other conceivable purpose outside that strictly defined by those regulations.
Justices Charles and Singleton concurred, and the case Was remitted to the magistrates.
Shipping Guide for Hauliers.
THE following is the number of ships arriving at the London docks, wharves and jetties named, from January 20 to 28 inclusive:—Docks: King George V, 8; Royal Albert, 4; Royal Victoria, 5; Surrey Commercial, 7; East India, 1; West India, 6; SouthWest India, 2; Tilbury, 8; Tilbury Stage, 3; Millwall, 5. WHARVES: Hay's, 7; Tilbury Jetty, 2; Regent's Canal, 2.
£1,000,000 for Glasgow-Carlisle Road.
FOR carrying out the Ministry of Transport's extensive programme of reconstruction and improvements on the Glasgow-Carlisle road, detailed schemes, which involve an expenditure of over £1,000,000, are now in preparation. The Ministry proposes to build a number of by-passes and diversions to improve transport facilities on this route, the two principal by-passes to be at Lockerbie, Dumfriesshire, and at La.rkhall, Lanarkshire.
Big Order for A.E.C. Single-deckers. rINE of the most important pas
senger vehicle orders recently received by the Associated Equipment Co., Ltd.. is for 53 Regal oil-engined single-deckers, and it comes from the Northern General Transport Co., Ltd. This concern has been a large and important user of A.E.C, vehicles for a long period, and this latest contract will bring the number of A.E.C. singledeckers and double-deckers purchased during the past five years up to 160. OWNER COULD NOT BE A SERVANT.
WHEN Mr. W. H. Oddy, Colin W Street, Halifax, applied at Halifax, last week, for the renewal of his carrier's licence, he stated that for 18 months he had been employed almost exclusively by one firm for the carriage of their goods. Mr. Sturge (railway counsel) thereupon raised the point as .to whether, by this employment, applicant did or did not become the servant of the employing firm, and, therefore, not the person to have the licence.
Mr. E. Russell Gurney (the Yorkshire Deputy Licensing Authority) said that if Mr. Oddy was the driver and if the vehicle belonged to him the question of being a servant did riot arise. Mr. Oday said he drove the vehicle, which was his own property. The application, for renewal of a B licence, was granted,. except that one or two places were struck off as not being within the applicant's normal scope ol operation.
Dodge Distributorship in London Districts.
%WE are advised that Corn-Motors, VV Ltd., 349, Euston Road, London, N.W.1, has taken over the distributorship for Dodge commercial vehicles in a number of London areas, comprising eight in western districts, four northwestern, four east-central, two westcentral and one western. The company is carrying a comprehensive stock of Dodge spare parts, and has good servicing facilities in its repair department at 1-5, Maple Place, Maple Street, W.1.
Owing to a typographical error, a mistake occurred in the classified advertisement of Wilsdon and Co., Park Road, Solihull, appearing under " Bodies," in our issue dated January 13, 1939, The products which the company was advertising were, obviously, super-capacity lightweight van bodies.
Tags
People
:
R. G. Plowman
,
E. Russell Gurney
,
Royal Victoria
,
T. D. Corpe
,
W. H. Oddy
,
John Dark
,
Tilbury Stage
,
Hewart
,
Oday
,
Lilley
,
A. F. Engelbach
,
Charles
,
Sturge
,
Shirley Worthington Evans
,
Millwall
,
Royal Albert
,
George V
,
Singleton
,
I. Cook
,
H. Trevor-Morgan