Co-operation Between Operator and Manufacturer
20th January 1939
Page 20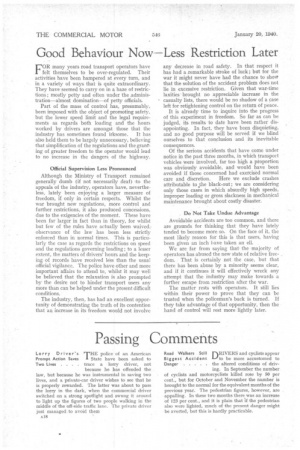 Page 20, 20th January 1939 —
Co-operation Between Operator and Manufacturer
Close
APARTICULARLY interesting debate took place recently in Birmingham between members of the Commercial Motor Users Association and of the Institution of Automobile Engineers.
The chief engineer of the Birmingham City Transport, speaking on behalf of passengervehicle operators, said that the chief points on which they looked to the manufacturers for more co-operation were in obtaining engines quiet in running and without causing body vibration, clean exhausts to eliminate smoke and smell, automatic gear changing and smooth acceleration.
A haulage representative enumerated many instances in which he felt that the makers might make improvements if only they would co-operate with users and find out their difficulties and requirements.
On behalf of the makers, it was suggested that one of the main difficulties was that users did not co-operate sufficiently amongst themselves to decide upon what they wanted. This, of course, applied mainly to those who purchase passenger vehicles, for we all know that the engineers of certain of these fleets have their particular idiosyncrasies, and often demand small alterations from standard design which must seriously affect production, even if they be prepared to pay extra for obtaining such deviations.
It must be remembered, however, that there is something to be said for those who have the courage of their convictions, and it frequently happens that particular requests are found to be so beneficial that, sooner or later, they are embodied in .the standard products. The most important point, therefore, appears to us to be the striking of a happy medium. The interest aroused at the debate in question was so great that although speakers were limited to five minutes, the discussion had to be closed before everyone could be heard. At the conclusion a vote was taken. This went in favour of the manufacturers, but the operators who spoke certainly gave them something to think about, and more such meetings might well be arranged.
A Co-operative Group Marches On
A MIDST the battle-scene of Britain's transport .affairs, which must fill every mind with a disturbing influence, it is at least refreshing to hear of any scheme which lives on with the clear purpose of promoting peace and decent industry in motor haulage_ We refer to a co-operative group which may be small, seen in the wide field of all road transport, but is none the less worthy of our interest.
In an area surrounding Luton, there are 24 haulage businesses, with 140 vehicles, which act in a state of order and control, under a common head, and with a large capital.
In August, 1937, A. Saunders and Son (Harpenden), Ltd., disturbed and deprived by unscrupulous rate-cutting on the part of local hauliers, inaugurated this co-operative group in a small way. Briefly, all the business of four or five of the larger hauliers of the area was to pass through the hands of the inaugurating company. The scheme was successful at its outset.
Now, after 18 months, this co-operative group has grown considerably and we learn that it is still voted "entirely satisfactory in working for members of the group, both in the general and individual interest." We quote from the minutes of a meeting held last week.
Would that the ripples from some such stone as this might spread wider and faster.