Off-white Christmas
20th December 1974
Page 36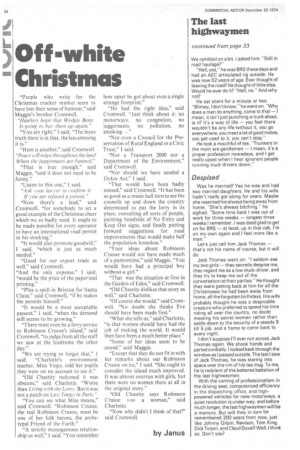 Page 36, 20th December 1974 —
Off-white Christmas
Close
"People who write for the Christmas cracker market seem to have lost their sense of humour," said Maggie's brother Cromwell.
-Hauliers hope that Wedgie Bean
Is going to htty them up again."
"You are right," I said. "The inore truth there is in that, the less amusing it is."
"Here is another," said Cromwell. "Peace will reign throughout the land When the juggernauts are banned."
"That is true enough," said Maggie, "and it does not need to he funny."
"Listen to this one," I said.
"Ask your 10/11.er to confirm it If voti are refused a permit.'' "Now there's a lead," said Cromwell, "for somebody to set a good example of the Christmas cheer which -we so badly need. It ought to be made possible for every operator to have an international road permit in his stocking."
"It would also promote goodwill," I said "which is just as much needed."
"Good for our export trade as well," said Cromwell.
"And the only expense," I said, "would be the price of the paper-and printing."
"Plus a spell in Brixton for Santa Claus," said Cromwell, "if he makes the permits himself."
"It would be a most acceptable present," I said, "when the demand still seems to be growing."
"There must even be a ferry service to Robinson Crusoe's island," said Cromwell, "to judge from all the stuff we saw at the lcedrome the other day."
"We are trying to forget that," I said. "Charlotte's environment teacher, Miss Virgo, told her pupils they were on no account to see it."
• "Old Chastity reckoned it was obscene," said Charlotte. "Worse than LiYing with the Lorry. But it was not a patch on Last Tango in Paris."
"You can see what Miss means," said Cromwell. "Robinson Crusoe, the real Robinson Crusoe, must be one of her folk heroes, the archetypal Friend of the Earth."
"A strictly monogamous relationship as well," I said. "You remember how upset he got about even a single strange footprint."
"He had the right idea," said Cromwell. "Just think about it: no motorways, no congestion, no juggernauts, no pollution, no smoking -" "Not even a Council for the Preservation of Rural England or a Civic Trust," I said.
"Nor a Transport 2000 nor a Department of the Environment," said Cromwell.
"Nor should we have needed a Dykes Act," I said.
"That would have been badly missed," said Cromwell, "It has been as good as a music hall turn to see the councils up and down the country determined to put the lorry in its place, consulting all sorts of people, painting hundreds of No Entry and Keep Out signs, and finally putting forward suggestions for road improvements that would make half the population homeless."
"Your ideas about Robinson Crusoe would not have made much of a pantomime," said Maggie. "You would have had a principal boy without-a girl."
"That was the situation at first in the Garden of Eden," said Cromwell.
"Old Chastity dislikes that story as well," said Charlotte.
"Of course she would," said Cromwell. "No doubt she thinks Eve should have been made first."
"What she tells us," said Charlotte, "is that women should have had the job of making the world. It would then have been a much better place."
"Some of her ideas seem to be sound," said Maggie.
"Except that they do not fit in with her remarks about our Robinson Crusoe on ice," I said. "She ought to consider the island much improved. It was almost overrun with girls, but there were no women there at all in the original story."
"Old Chastity says Robinson Crusoe was a woman," said Charlotte.
"Now why didn't I think of that?" said Cromwell.
by Janus