TRRL compares
20th December 1974
Page 21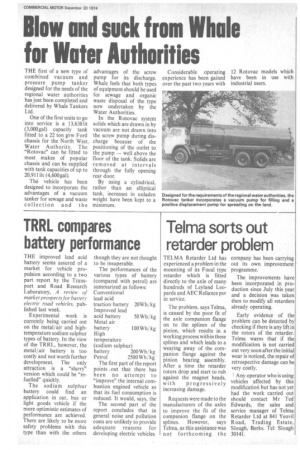 Page 21, 20th December 1974 —
TRRL compares
Close
battery performance
THE improved lead acid battery seems assured of a market for vehicle propulsion according to a two part report by the Transport and Road Research Laboratory, A review of market prospects /or battery electric road vehicles, published last week.
Experimental work is currently being carried out on the metal/ air and hightemperature sodium sulphur types of battery. In the view of the TR RL, however, the metal/ air battery is too costly and not worth further development. The only attraction is a "slurry" version which could be "refuelled" quickly.
The sodium sulphur battery could find an application in car, bus or light goods vehicle if the more optimistic estimates of performance are achieved. There are likely to be more safety problems with this type than with the others though they are not thought to be insuperable.
The performances of the various types of battery (compared with petrol) are summarized as follows: Conventional lead acid traction battery 20Wh/ kg Improved lead acid battery 50 Whl kg Metal air battery 100 Whikg High temperature (sodium sulphur) battery 200 Wh/ kg Petrol 2500 Wh / kg The first part of the report points ..out that there has been no attempt to "improve" the internal combustion engined vehicle so that its fuel consumption is reduced. It would, says, the The second part of the report concludes that in general noise and pollution costs are unlikely to provide adequate reasons for developing electric vehicles.