Telma sorts out retarder problem
20th December 1974
Page 21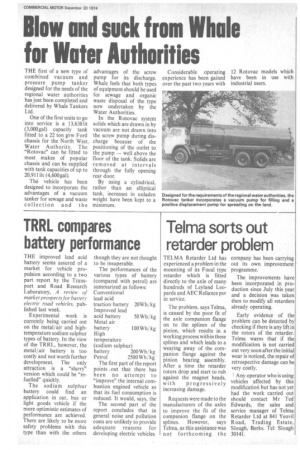 Page 21, 20th December 1974 —
Telma sorts out retarder problem
Close
TELMA Retarder Ltd has experienced a problem in the mounting of its Focal type retarder which is fitted directly to the axle of many hundreds of Leyland Leopards and AEC Reliance psv in service.
The problem, says Telma, is caused by the poor fit of the axle companion flange on to the splines of the pinion, which results in a working process within these splines and which leads to a wearing away of the companion flange against the pinion bearing assembly. After a time the retarder rotors drop and start to rub against the magnet heads, with progressively increasing damage.
Requests were made to the manufacturers of the axles to improve the fit of the companion flange on the splines. However, says Telma, as this assistance was not forthcoming the company has been carrying out its own improvement programme.
The improvements have been incorporated in production since July this year and a decision was taken then to modify all retarders already operating.
Early evidence of the problem can be detected by checking if there is any lift in the rotors of the retarder. Telma warns that if the modification is not carried out very soon after the initial wear is noticed, the repair of retrospective damage can be very costly.
Any operator who is using vehicles affected by this modificatiori but has not yet had the work carried out should contact Mr Ted Edwards, the sales and service manager of Telma Retarder Ltd at 841 Yeovil Road, Trading Estate, Slough, Berks. Tel: Slough 30141.