Blow and suck from Whole for Water Authorities
20th December 1974
Page 21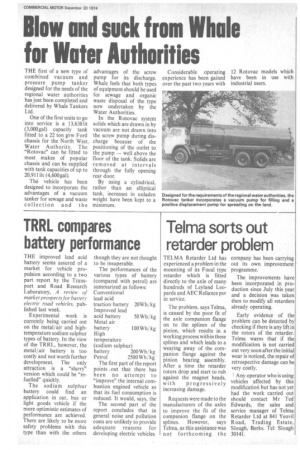 Page 21, 20th December 1974 —
Blow and suck from Whole for Water Authorities
Close
THE first of a new type of combined vacuum and pressure pump tanker designed for the needs of the regional water authorities has just been completed and delivered by Whale Tankers Ltd.
One of the first units to go into service is a 13,6381it (3,000gal) capacity tank fitted to a 22 ton gvw Ford chassis for the North West. Water Authority. The "Rotovac" can be fitted to most makes of popular chassis and can be supplied with tank capacities of up to 20,91114 (4,600gal).
The vehicle has been designed to incorporate the advantages of a vacuum tanker for sewage and waste collection and the advantages of the screw pump for its discharge. Whale feels that both types of equipment should be used for sewage and organic waste disposal of the type now undertaken by the Water Authorities.
In the Rotovac system solids which are drawn in by vacuum are not drawn into the screw pump during discharge because of the positioning of the outlet to the pump — well above the floor of the tank. Solids are removed at intervals through the fully opening rear door.
By using a cylindrical, rather than an elliptical tank, increases in unladen weight have been kept to a minimum. Considerable operating experience has been gained over the past two years with 12 Rotovac models which have been in use with industrial users.