Tribunal rejects appeal on two grounds
20th December 1974
Page 20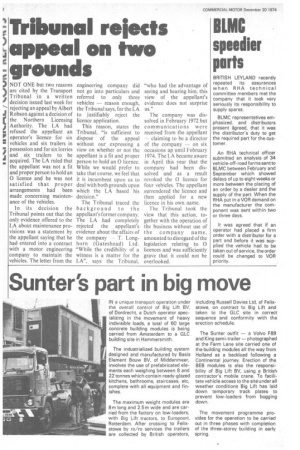 Page 20, 20th December 1974 —
Tribunal rejects appeal on two grounds
Close
NOT ONE but two reasons are cited by the Transport Tribunal in a written decision issued last week for rejecting an appeal by Albert Robson against a decision of the Northern Licensing Authority. The LA had refused the appellant an operator's licence for six vehicles and six trailers in possession and for six lorries and six trailers to be acquired. The LA ruled that the appellant was not a fit and proper person to hold an 0 licence and he was not satisfied that proper arrangements had been made concerning maintenance of the vehicles.
In its decision the Tribunal points out that the only evidence offered to the LA about maintenance provisions was a statement by the appellant saying that he had entered into a contract with a motor engineeringcompany to maintain the vehicles. The letter from the engineering company did not go into particulars and referred to only three vehicles — reason enough, the Tribunal says, for the LA to justifiably reject the licence application.
This reason, states the Tribunal, "is sufficient to dispose of the appeal without our expressing a view on whether or not the appellant is a fit and proper person to hold an 0 licence. While we would prefer to take that course, we feel that it is incumbent upon us to deal with both grounds upon which the LA based his decision."
The Tribunal traced the background to the appellant's former company. The LA had completely rejected the appellant's evidence about the affairs of the company — T. Longhorn (Gateshead) Ltd. "While the credibility of a witness is a matter for the LA", says the Tribunal, "who had the advantage of seeing and hearing him, this view of the appellant's evidence does not surprise us."
The company was dissolved in February 1972 but communications were received from the appellant claiming to be a director of the company — on six occasions up until February 1974. The LA became aware in April this year that the company had been dissolved and as a result revoked the 0 licence for four vehicles. The appellant surrendered the licence and then applied for a new licence in his own name.
The Tribunal took the view that this action, together with the operation of the business without use of the company name, amounted to disregard of the legislation relating to 0 licences and was sufficiently grave that it could not be overlooked.