LONDON'S GROWING TROLLEYBUS FLEET
20th December 1935
Page 50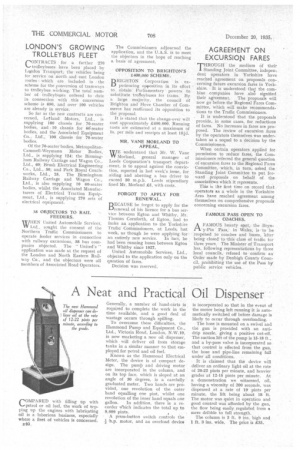 Page 50, 20th December 1935 —
LONDON'S GROWING TROLLEYBUS FLEET
Close
CONTR ACTS for a further 270 trolleybuses have been placed by Lcinclou Transport, the vehicles being for service on north and .east London routes.. whiCh are. included in the scheme for the "conversion of tramways to trolleybus working. The total number of trolleybu,ses ordered to date in connection with this conversion scheme is 690,• and over 100 vehicles are already in service.
So far as the new contracts are concerned, Leliand Motors, Ltd., is supplying 160 chassis for 70-seater bodies, and ,10 chassis for 60'-seater bodies, and the Associated Equipment Co., Ltd.,. 100 chassis for 70-seater bodies.
Of the 70-seater bodies, MetropolitanCammell-Weymann Motor Bodies, Ltd., is supplying 124: the Birmingham Railway Carriage and Wagon Co., Ltd., 60; Brush Electrical Engineering Co., Ltd.. 50; and Park Royal Coachworks, Ltd., 25. The Birmingham Railway Carriage and Wagon Co., Ltd., is also supplying 10 60-seater bodies, whilst the Associated Manufacturers of Electrical Traction Equipment, -Ltd., is supplying 270 sets of electrical equipment.
38 OBJECTORS TO RAIL FEEDERS.
WHEN United Automobile Services, Ltd.., sought the consent of the Northern Traffic Commissioners to operate feeder services in connection with railway excursions, 38 bus companies objected. The " United's " application was made at the request of the London and North Eastern Railway Co.. and the objectors were 'all members of Associated Road Operators.
The Commissioners adjourned the application, and the U.A.S. is to meet the objectors in the hope of reaching a basis of agreement.
OPPOSITION TO BRIGHTON'S £400,000 SCHEME.
DRIGHTON Corporation is ex periencing opposition in its effort to obtain Parliamentary powers to substitute trolleybuses for trams. By a large majority, the council of Brighton and Hove Chamber of Commerce has reaffirmed its opposition to the proposal.
It is stated that the change-over will cost approximately £400,000. Running costs are estimated at a maximum of Is. per mile and. receipts at least 151d.
MR. VANE MORLAND TO APPEAL.
WM understand that Mr. W. Vane Morland, general manager of Leeds Corporation's transport depart_ ment, is to appeal against the conviction, reported in last week's issue, for aiding and abetting a bus driver to exceed 30 m.p,h. Leeds stipendiary fined Mr. Morland £5, with costs.
FORGOT TO APPLY FOR RENEWAL.
BECAUSE he forgot to apply for the 1-)renewal of his licence for a bus service between Egton and Whitby, Mr. Thomas Cornforth, of Egton, had to Make an application to the Yorkshire Traffic Commissioners, at Leeds, last week, as though he were applying for
an entirely new service. In fact; he had been running buses between Egton and Whitby since 1927.
United Automobile Services, Ltd., objected to the application only on the question of fares.
Decision was reserved.
AGREEMENT ON EXCURS1011 FARES
THROUGH the medium of their
1 Standing Joint Committee, indepens dent operators in Yorkshire have reached agreement on proposals con-, corning future excursion fares in Yorkshire. It is understood that the combine companies have als; signified
their agreement. The proposals will now go before the Regional Fares Committee, which will make recommendations to the Traffic Commissioners.
It is understood that the proposals provide, in some cases, for reductions of fares. No increases in fares are proposed. The review of excursion fares by the operators themselves was undertaken as a sequel to a decision by the Commissioners.
When certain operators applied for permission to reduce fares, the Commissioners referred the general question of excursion fares to the Regional Fares Committee, which, in turn, asked the Standing Joint Committee to put forward proposals on behalf of the associations which it represents.
This is the first time on record that operators as a whole in the Yorkshire Area have reached agreement among themselves on comprehensive proposals concerning excursion fares.
FAMOUS PASS OPEN TO COACHES.
A FAMOUS beauty spat, the 'Bryn.
'y-Pin Pass, in Wales, is to be reopened to coaches and buses, 'after being closed to this class of traffic for three years. The Minister of Transport has, following representations by three local councils, refused to confirm an Order made by Denbigh County Council, prohibiting 'the use of the Pass by public service vehicles.