Railways Fight for Dated Returns
20th December 1935
Page 49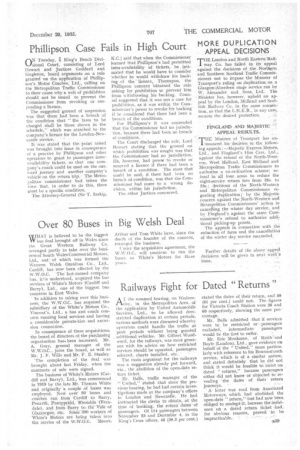 Page 49, 20th December 1935 —
Railways Fight for Dated Returns
Close
Keywords :
AT the resumed hearing, on Wednesday, in the Metropolitan Area, of the application by United Automobile Services, Ltd., to be allowed derestricted duplication at certain periods, various methods were discussed whereby operators could handle the traffic at peak periods without being granted additional vehicles. Mr. Gilbert Wocidward, for the railways, was most generous with his advice on how restricted services should be operated, paiSengers selected, charts installed, etc.
The main argument for the railways was a suggestion already put forward, viz., the abolition Of the Open-date return ticket.
Mr. Balls, traffic manager of the " United," stated that since the previous hearing, he had had certain investigations Made at the company's offices in London 'and Newcastle. He had instructed the 'clerks tO obtain, at the time of booking, the .reftrn clateS4of passengers. Of 114 passengers between November 23 and December 4, in the King's Cross offices, 45 (39.3 per cent.)
stated the dates of their return, and 69 (61 per cent.) could not. The figures for Victoria Coach Station were 38' and 69 respectively, showing the same per centage.
Mr. Balls admitted that if services were to be restricted or passengers excluded, intermediate passengers would be the first to suffer.
Mr. Eric Monkman, of Kith and Boyle (London), Ltd., gave evidence on behalf of the " United," more particularly with reference to his Bournenouth service, which is of a similar nature, and stated definitely that he did not think it would be feasible to insist on dated "returns," because passengers either did not know or objected to revealing the dates of their return journeys. "
" A' letter was read from Associated Motorways, which 'had abolished the open-date "return;" but had now been obliged to readopt'it, because the insistence. nn a dated return ticket had, for obvious reasons, preyed 1.0 be impracticable.