Phillipson Case Fails in High Court
20th December 1935
Page 49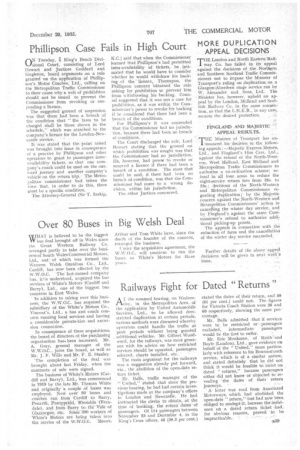 Page 49, 20th December 1935 —
Phillipson Case Fails in High Court
Close
QN Tuesday, I King's Bench' Divisional Court, consisting of Lord Ifewart and Justices Goddard and Singleton, heard arguments on a rule granted on the application of Phillipson's Motor Coaches, Ltd., calling on the Metropolitan Traffic Commissioner to show cause why a writ of prohibition should not be issued to prevent the Commissioner from revoking or suspending a licence.
The suggested ground of suspension was that there had been a breach of the condition that "the fares to be charged shall be those shown in the schedule," which was attached to the company's licence for the London-New castle service.'
It was stated that the point raised was brought into issue in consequence of a practice by Phillipson and other operators to grant to passenger's interavailability tickets, so that one company's coach could be used on the outward journey and another company's vehicle on the return trip. The Metropolitan commissioner had taken the view that, in order to do this, there must be a specific condition.
The Attorney-General (Sir T. Inskip, K.C.) said that when the Commissioner learned that Phillipson's had permitted inter-availability of tickets, he. inti
mated that he would have to consider .whether he would withdraw his back ing of the -licence. Thereupon, the
Phillipson 'concern 'obtained the rule asking for Prohibition to prevent him from withdrawing his backing. Coun sel suggested that it was not a case for prohibition, as it was within the Com missioner's power to revoke his backing if he considered that there had been a breach of the conditions.
For Phillipson's it was contended that the Commissioner had no jurisdic'tion, because there had been no breach of conditions.
The Court discharged the tide, Lord Hewart stating that the ground on which prohibition was sought was that the Commissioner had no jurisdiction.
He, however, had power to revoke or suspend a licence if there had been a
breach of a condition, The most that' could be said, if there had been DO breach of condition, was that the Commissioner had come to a wrong decision, within his jurisdiction.
The other Justices concurred.