Over 80 Buses in Big Welsh Deal
20th December 1935
Page 49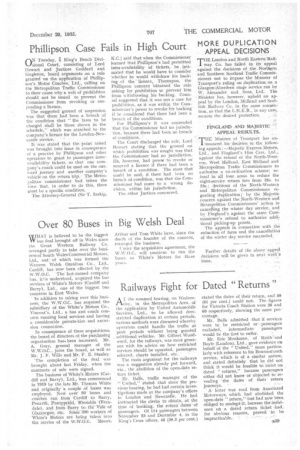 Page 49, 20th December 1935 —
Over 80 Buses in Big Welsh Deal
Close
VUHAT is believed to be the biggest 'IV bus deal brought off in Wales since the Great Western Railway Co. arranged partly to take over the business of South Wales Commercial Motors, Ltd., out' of which was formed the Western Welsh Omnibus Co., Ltd., Cardiff, has now been effected by the W.W.O.C. The last-named company has, itlis understood, acquired-the bus services of White's Motors (Cardiff and Barry), Ltd., one of the biggest bus concerns in East Wales.
In addition to taking over this business, the W.W.O.C. has acquired the subsidiary of the White's Motors Co., Vincent's, Ltd., a bus and coach concern running local services and having a considerable private-hire and excursion connection.
In consequence of these acquisitions, the board of directors of the purchasing organization has.) been increased. Mr. A. Gray, general manager of the W.W.O.C., joins the board, as well as Mr. J. F. Wills and Mr. F. E. Stanley.
'The completion of the deal was brought about last .Friday, when the contracts of sale were signed.
The business of White's Motors (Cardiff and Barry), Ltd., Was commenced in 1919 by the late Mr. Thomas White and originally :a couple of buses was employed. NOW over SO buses and cOacheS run from "Cardiff to Barry, Penarth, Pontypridd, Rhondda -(Ferndale), and from Barry to. the 'Vale' of Glamorgan ; etc. Soine. 300 worlthrs of White's Motors are being thken into the service of the W.W.O.C. Messrs.
Arthur and Tom White have, since the death of the founder of the concern, managed the business.
tinder the acquisition agreement, the W.W,O.C. will continue to runthe buses as White's. Motors for thzee years.