MORE DUPLICATION APPEAL DECISIONS
20th December 1935
Page 49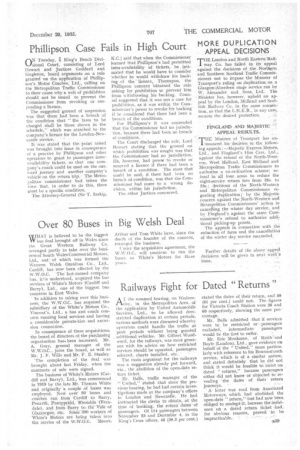 Page 49, 20th December 1935 —
MORE DUPLICATION APPEAL DECISIONS
Close
'THE London and North Eastern Rail' way Co. has failed in its appeal against the decisions of the Northern and Southern Scotland Traffic Commissioners not to impose the Minister of Transport's ruling on duplication on a Glasgow-Aberdeen stage service run by W. Alexander and, Sons, Ltd. The Minister has, however, upheld an appeal by the London, Midland and Scottish Railway Co. in the same connection, so that the L.N.E.R., in any case, secures the desired protection.
F1NGLAND AND MAJESTIC. APPEAL RESULTS.
• THE Minister of Transport has an
1 'flounced his decision, in the following appeals :—Majestic Express Motors, Ltd., and Fingland's Hire Cars, Ltd., against the refusal of the North-Western, West Midland, East Midland and • Metropolitan Traffic Commissioners to authorize a co-ordination scheme; refusal in all four . areas to reduce the night-service return fare from 25s. to 23s.; decisions of the North-Western and Metropolitan Commissioners regarding duplication ; by the Majestic concern against the North-Western and Metropolitan Commissioners' action in cancelling the winter day service, and by Fingland's against the same Coinmissioner's refusal to authorize additional picking-up points. The appeals in connection with ;the reduction of fares and the cancellation of the winter day service succeeded.
Further details of the above appeal decisions will be given in next week's issue.