01INIONS and QUERIES
20th December 1935
Page 45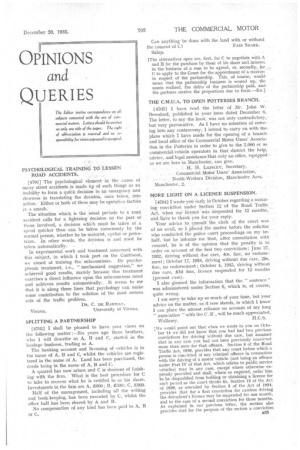 Page 46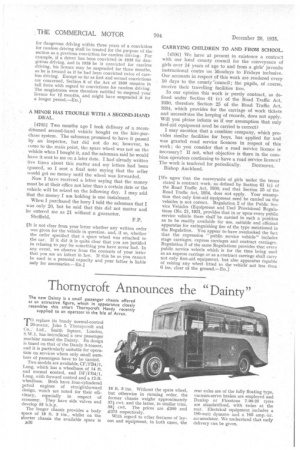 Page 45, 20th December 1935 —
01INIONS and QUERIES
Close
PSYCHOLOGICAL TRAINING TO LESSEN ROAD ACCIDENTS.
[4701] The psychological element in the cause. of many street accidents is made up of such things as an inability to form a quick decision in an emergency and slowness in translating the decision, once taken, into action.Either or both of these may be operative factors in a smash.
The 'situation which is the usual prelude to a road, accident calls for a lightning decision on the part of those involved, a decision which must be taken at a speed quicker than can be taken consciously by the normal person, whether he be motorist, cyclist or pedestrian. In other words, the decision is and must be taken automatically.
In experimental work and treatment concerned with this subject, in which I took part on the Continent, we aimed at training the subconscious. By psychophonic treatment, i.e., "mechanized suggestion," we achieved good results, mainly because this treatment exercises a direct influence upon the subconscious mind and achieves results automatically. It seems to me that it is along these lines that psychology can make some contribution to the solution of the most serious side of the traffic problem.
DR. C. DE RADWAN, Vienna. University of Vienna.
SPLITTING A PARTNERSHIP [4702] I shall be pleased to have your views on the following matter :—Six years ago three brothers, who I will describe as A, B and C, started in the haulage business, trading as A.
The banking account and licensing of vehicles is in the name of A, B and C, whilst the vehicles are registered in the name of A. Land has been purchased, the deeds being in the name of A, B and C.
A quarrel has now arisen and C is desirous of finishing with the firm. What is the best procedure for C to 'take to recover what he is entitled to as his share. Investments in the firm are A, £600; B, £500: C, £160.
Half of the management, including all the writing and bookkeeping, has been executed by C, whilst the other half has been shared by A and B.
No compensation of any kind has been paid to A, B or C. Can anything be done with the land with or without the consent of C? FAIR SHARE. Salop.
[The alternatives open are, first, for C to negotiate with A and B for the purchase by them of his share and interest in the business at a sum to be agreed, or, secondly, for C to apply to the Court for the appointment of a receiver in respect of the partnership. This, of course, would mean that the partnership business is wound up. the assets realized, the debts of the partnership paid, and the partners receive the proportions due to them.—Eo.1
THE C.M.U.A. TO OPEN POTTERIES BRANCH.
[4703] I have read the letter of Mr. jotui W. Beresford, published in your issue dated December 6. The letter, to say the least, was not only contradictory, • but very provocative. As I have no intention of entering into any controversy, I intend to carry on with the. plans which I have made for the opening of a branch and local office of the Commercial Motor Users' Association in the Potteries in order to give to the 2,000 or so commercial-vehicle operators in that district the help. • advice, and legal assistance "that only an office, equipped as we are here in Manchester, can give.
H. H. L.asLEY, Secretary, Commercial Motor Users' Association, Noh-Western Division, Manchester Area. Manchester, 2.
MORE LIGHT ON A LICENCE SUSPENSION.
[4704] I wrote you early in October regarding a motoringconviction under Section 12 of the Road Traffic Act, when my licence was Suspended for 12 months, and-have to thank you for your reply.
Your advice to consult the clerk of the court was of no avail, so I Placed the matter before the solicitor who conducted the police court proceedings on my behalf, but he informs me 'that, after tonsultation with counsel, he is of the opinion that the penalty is in order on account of the first two convictions: June 27, 1932, driving without due care, 40s. fine, no endorsement ; October 17, 1934, driving without due care, 29s. fine, no endorsement ; October 4, 1935, driving without due care, £10 fine, licence suspended for 12 months (present case).
I also gleaned the information that the " sentence " was administered under Section 6, which is, of course, quite wrong.
I am sorry to take up so much of your time, but your advice on the matter, as it now stands, in which I know I can place the utmost reliance on account of my long " association "with the 67.3f ., will be much appreciated.
Wallasey. H.C.S.
[We would point out that when we wrote to you on October 14 we did not know that you had had two previous convictions for driving without due care, but assumed that in any case you had not been previously convicted more than once for that offence. Section 6 of the Road Traffic Act, 1930, provides that any court before which a person is convicted of any criminal offence in connection with the driving of a motor vehicle (not being an offence under Part IV of that Act, which relates to public service vehicles) may in any case, except where otherwise expressly provided and shall, where so required, order him to be disqualified from holding or obtaining a licence for such period as the court thinks fit. Section 12 of the Act of 1930, as amended by Section 5 of the Act of 1934, provides that for a. first conviction for careless driving the defendant's licence may be suspended for one month. and in the case of a second conviction for three months. As explained in our previous letter, the section also provides that for the purpose of the section a conviction for dangerous driving within three years of a conviction for careless driving shall be treated for the purpose of the section as a previous conviction for careless driving. For example, if a driver has been convicted in 1933 for dangerous driving, and in 1935 he is convicted for careless driving, his licence may be suspended for three months, as he is treated as if he had been convicted twice of careless driving. Except so far as first and second convictions are concerned. Section 6 of the Act of 1930 remains in full force with regard to convictions for careless driving. The magistrates were therefore entitled to suspend your licence for 12 months, and might have suspended it for a longer period.—ED.] A MINOR HAS TROUBLE WITH A SECOND-HAND DEAL.
[4705] Two months ago I took delivery of a reconditioned second-hand vehicle bought on the hire-purchase system. The salesman promised to have it passed by. an inspector, but did not do so; however, to come to the main point, the spare wheel was not on the vehicle when I bought it, and the salesman said he would have it sent to use on a later date. I had already written five times about this matter and my letters had been ignored, so I sent a final note saying that the seller would get no money until the wheel was forwarded.
Now I have received a letter saying that the money must be at their office not later than a certain date or the vehicle will be seized on the following day. I may add that the money I am holding is one instalment.
When I purchased the lorry I told the salesman that I was only 20, but he said that this did not matter and be entered me as 21 without a guarantor.
Sheffield. F.P.
[It is not clear from your letter whether any written order was given for the vehicle in question, and, if so, whether the order specified that a spare wheel was attached to the car. If it did it is quite clear that you are justified in refusing to pay for something you have never had. In any event, we observe from the contents of your letter that you are an infant in law. If this be so you cannot be sued in a personal capacity and your father is liable only for necessaries.—ED.]
CARRYING CHILDREN TO AND FROM SCHOOL.
F47001 We have at present in existence a contract with our local county council for the conveyance of girls over 14 years of age to and from a girls' juvenile instructional centre on Mondays to Fridays inclusive. Our accounts in respect of this work are rendered every 10 days to the county 'council ; the pupils, of course, receive their travelling facilities free.
In our opinion this work is purely contract, as defined under Section 01 (c) of the Road Traffic Act, 1930, therefore Section 25 of the Road Traffic Act, 1934, which provides for the carriage of work tickets and necessitates the keeping of records', does not apply. Will you please inform us if our assumption that only first-aid equipment need be carried is correct?
I may mention that a combine company, which provides similar facilities for boys, has applied for and was granted road service licences in respect of this work ; do you consider that a road service licence is necessary? If not, what objective is there in the coinbine operators continuing to have a road service licence?
The work is tendered for periodically. DounTFEJL. Bishop Auckland.
[We agree that the conveyanee of girls under the terms stated is contract work, as defined by Section 61 (c) of the Road Traffic Act, 1930, and that Section 25 of the Road Traffic Act, 1934, does not apply. Your assumption that only first-aid equipment need be carried on the vehicles is not correct. Regulation 2 of the Public Service Vehicles (Equipment and Use) Provisional Regulations (No. 2), 1931, provides that in or upon every public service vehicle there shall be carried in such a position as to be readily available for use, suitable and efficient apparatus for extinguishing fire of the type mentioned in the Regulation. You appear to have overlooked the fact that the expression "public service vehicle" includes stage carriages, express carriages and contract carriages. Regulation 3 of the same Regulations provides that every public service vehicle which is for the time being used as an express carriage or as a contract carriage shall carry not only first-aid equipment, but also apparatus Capable, of raising any wheel fitted to the vehicle not less than 6 ins, clear of the ground.—Eo..]