Casual jottings
20th December 1935
Page 39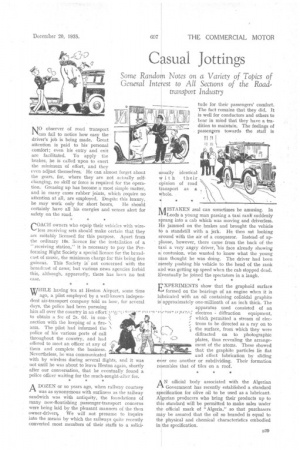 Page 39, 20th December 1935 —
Casual jottings
Close
Some Random Notes on a Variety of Topics of General Interest to All Sections of the Roadtransport Industry
1\10 observer of road transport I 'lean fail to notice how easy the driver's job is being made. Great attention is paid to his personal comfort; even his entry and exit are facilitated. To apply the brakes, he is called upon to exert the minimum of effort, and they even adjust themselves. He can almost forget about the gears, for, where they are not actually selfchanging, no skill or force is required for the operation. Greasing up has become 'a most simple matter, and in ninny cases rubber joints, which require no attention at all, are employed. Despite this luxury, he may work only for short hours. He should certainly have all his energies and senses alert for safety on the road.
COACH owners who equip their vehicles with wireless receiving sets should make certain that they are 'suitably licensed for this purpose. Apart from the ordinary 10s. licence for the installation of a 'receiving station," it is necessary to pay the Performing Right Society a special licence for the broadcast of music, the minimum charge for this being five guineas. This Society is not concerned with the broadcast of news, but various news agencies forbid this', although, apparently, there has been no test case.
WHILE having tea at Heston Airport, some time " ago, a pilot employed by a well-known independent air-transport company told us how, for several days, the police had been pursuing him all over the country in an effort r \\t''t "i' II 'If to obtain a fee of 2s. 6d. in connection with the keeping of a fire\ arm. The pilot had informed the \ police of his various ports of call throughout the country, and had offered to meet an officer at any of them and complete the business. Nevertheless, he was communicated with by wireless during several flights, and it was not until he was about to leave Heston again, shortly after our conversation, that he eventually found a police officer waiting for the much-sought-after fee.
ADOZEN or so years ago, when railway courtesy was as synonymous with surliness as the railway sandwich was with antiquity, the foundations of many. now-flourishing :passenger-transport concerns were being laid by the pleasant manners of the then owner-driver4 We will not presume to inquire into the means by which the railways quite recently converted most members of their staffs to a solici
A ISTAKEN zeal can sometimes be amusing. In A''Leeds a young man passing a taxi rank suddenly sprang into a cab which was moving and driverless. He jammed on the brakes and brought the vehicle to a standstill with a jerk. He then sat looking around with the air of a conqueror. Instead of applause, however, there came from the back of the taxi a very angry driver, 'his face already showing a contusion, who wanted to know what the young man thought he was doing. The driver had been merely pushing his vehicle to the head of the rank and was getting up speed when the cab stopped dead. Eventually he joined the spectators in a laugh.
EXPEREVIENTS show that the graphoid surface formed on the bearings of an engine when it is lubricated with an oil containing colloidal graphite is approximately one-millionth of an inch thick. The
apparatus used consisted of an
.0° • "111' " 11/ '1/', electron electron diffraction equipment,
which permitted a stream of elec',7. trons to be directed as a ray on to
the surface, from which they were diffracted on to photographic plates, thus revealing the arrangement of the atoms. These showed that the graphite particles lie flat and effect lubrication by sliding o cr one another or subdividing. Their formation
r enables that of tiles on a roof.
N official body associated with the Algerian Government has recently established a standard
s cification for olive oil to be used as a lubricant.
erian producers who bring their products up to th s standard will be permitted to make sales under th official mark of "Algeria," so that purchasers m y be assured that the oil so branded is equal to th physical and chemical characteristics embodied in the specification.