COMBINING TO " MAINTAIN FAIR RATES.
20th December 1935
Page 35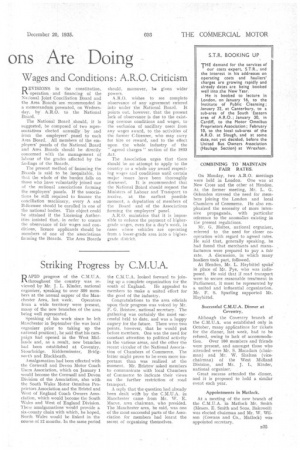 Page 35, 20th December 1935 —
COMBINING TO " MAINTAIN FAIR RATES.
Close
On Monday, two A.R.O. meetings were held in London. One was at New Cross and the other at Hendon. At, the former meeting, Mr. L. G. Ockenden stressed the need for members joining the London and local Chambers of Commerce. Re also emphasized the necessity of more intensive propaganda, with particular reference to the anomalies existing in the present regulations.
Mr. G. Holtes, national organizer, referred to the need for closer cooperation with regard to agreed rates. He said that, generally speaking, he had found that merchants and manufacturers were prepared to pay a fair rate. A discussion, in which many hauliers took part, followed. At Hendon, Mr. LI HaybitteI spoke" in place of Mr. Pye, who was indisposed. He said that if road transport were to secure reasonable treatment in Parliament, it must be represented by a united and influential organization. Mr. F. S. Spurling supported Mr. Haybittel.
Successful C.M.U.A. Dinner at Coventry.
Although the Coventry branch of the C.M.U.A. was established only in October, many applications for tickets for the dinner, last week, had to he refused, owing to lack of accommodation. Over 100 members and-friends -were present, and amongst those who attended were Mr. S. Macadam (chairman) and Mr. W. Shalton (vicechairman) of the West Midland Division, and Mr. J. L. Kinder, national organizer. .
Great success attended the dinner, and it is proposed to hold a similar event each year.
Appointments in Matlock.
At a meeting of the new branch of the C.M.U.A. in Matlock Mr. Smith (Messrs. E. Smith and Sons, 13akawell) was elected chairman and Mr. W. Wilson (Cowans and Co., Matlock) was appointed secretary.