Public Opinion Will Force Unity ?
20th December 1935
Page 34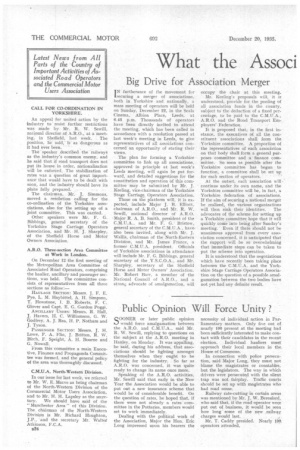 Page 34, 20th December 1935 —
Public Opinion Will Force Unity ?
Close
SOONER or later public opinion would force amalgamation between the A.R.O. and C.M.U.A., said Mr. R. W. Sewill, replying to questions on the subject at the A.R.O. meeting in Hanley, on Monday. It was appalling, he said, during his address, that associations should be fighting amongst themselves when they ought to be fighting for the industry. So far as A.R.O. was concerned, it was quite ready to change its name once more.
Speaking of the A.R.O. activities, Mr. Sewill said that early in the New Year the Association would be able to put out a new insurance scheme that would be of considerable benefit. On the question of rates, he hoped that, if there were not already a rates committee in the Potteries, members would set to work immediately.
Dealing with the political work of the Association, Major the Hon. Eric Long impressed upon his hearers the necessity of individual action in Parliamentary matters. Only five out of nearly 100 present at the meeting had been sufficiently interested to make contact with their candidates in the recent election. Individual hauliers must approach their local members in the House of Commons.
In connection with police persecution, said Major Long, they must not blame the magistrates or constables, but the legislators. The way in which drivers were persecuted with the silent trap was not fairplay. Traffic courts should be set up with magistrates who had road sense.
Railway rate-cutting in certain areas was mentioned by Mr. J. W. Beresford, who said that, if the road operator were put out of business, it would be seen how long some of the new railway charges would last.
Mr. T. Caddy presided. Nearly 100, operators attended.