CALL FOR CO-ORDINATION IN YORKSHIRE.
20th December 1935
Page 34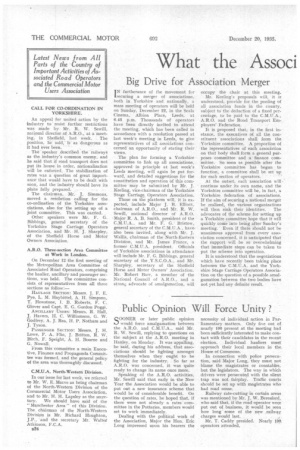 Page 34, 20th December 1935 —
CALL FOR CO-ORDINATION IN YORKSHIRE.
Close
An appeal for united action by the industry to resist further restrictions was made by Mr. R. W. Sewill, national director of A.R.O., at a meeting, in Sheffield, last week. . The position, he said, is as dangerous as it had ever been.
The speaker described the railways as the industry's common enemy, and be said that if road transport does not put its house in order, nationalization will be enforced. The stabilization of rates was a question of great importancethat would have to be dealt with soon., and the industry should have its plans fully prepared.
The chairman, Mr. J. Simmons, moved a resolution calling for the co-ordination of the Yorkshire associations, also for the setting up of a joint committee. This was carried.
Other speakers were Mr. F. G. Bibbings, general secretary of the Yorkshire Stage Carriage Operators Association, and Mr. H. J. Sharpley, of the Sheffield Horse and Motor Owners Association.
A.R.O. Three-section Area Committee at Work in London.
On December 12 the first meeting of the Metropolitan Area Committee of Associated Road Operators, comprising the haulier, ancillary and passenger sections, was held. The comtnitttee consists of representatives from all three sections as follow:— HAULAGE SECTION: MeSSIS, J. F. E. Pye, L. M. Haybittel, A. H. Simpson, T. Hewstone, I. B. Roberts, F. C. Glover and Capt. E. G. Gordon Poggi.
ANCILLARY USERS: Messrs. R. Hall, J. Havers, H. C. Williamson, G. W. Godfrey, A. J. Rea, H. P. Notham and J. Tyson.
PASSENGER SECTION: Messrs. J. H. Lowe, F. A. Flin, J. Britten, R. W. Birch, F. Speight, A. H. Bourne and G. Nowall.
From this committee a main Executive, Finance and Propaganda Committee was formed, and the general policy of the area was thoroughly discussed.
C.M.U.A. North-Western Division.
In our issue for last week, we referred to Mr. W. E. Macve as being chairman of the North-Western Division of the Commercial Motor Users Association, and to Mr. H. H. Lapsley as the secretary. We should have said of the "Manchester Area" of this Division. The chairman of the North-Western Division is Mr. Richard Houghton, and the secretary Mr. Walter Atkinson, F.C.A.
1324