Air
20th December 1935
Page 33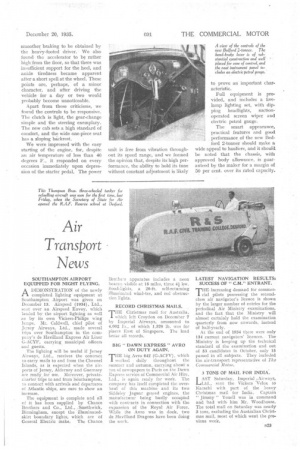 Page 33, 20th December 1935 —
Air
Close
Transport
News
SOUTHAMPTON AIRPORT EQUIPPED FOR NIGHT FLYING.
A DEMONSTRATION of the newly CA completed lighting equipment at Southampton Airport was given on December 13. Airspeed (1934), Ltd., sent over an Airspeed Envoy, which landed by the airport lighting as well as by its own Vickers-Philips wing lamps. Mr. Caldwell, chief pilot of Jersey Airways, Ltd., made several trips over Southampton in the company's de Havilland Express Air Liner G-ACYF, carrying municipal officers and guests.
The lighting will be useful if Jersey Airways, Ltd., receives the contract to carry mails to and from the Channel Islands, as is expected when the airports of Jersey, Alderney and Guernsey are ready. for use. Moreover, privatecharter. trips to and fromSOuthampton, to connect with arrivals and departures of Atlantic ships, are sure to show an increase.
The equipment is complete and all of it has been supplied by Chance Brothers and CO., Ltd., .Smethwick, Birmingham, except the 'illuminatedskirt boundary lights, which are Of General Electric make. The Chance Brothers apparatus includes a neon beacon visible at 18 miles, three 41 kw. flood-lights, a 20-ft. self-returning illuminated whid-tee, and red obstruction lights.
RECORD CHRISTMAS MAILS. .
THE Christmas mail for Australia, which left Croydon on December 7 by Imperial Airways, amounted to 4,002 lb., of which 1,329 lb. was for places East of Singapore. The load broke all records.
BIG "DAWN EXPRESS " AVRO ON DUTY AGAIN.
THE big Avro 642 (C-ACFV), which worked daily throughout • the summer arid autumn, carrying about .a ton of newspapers to Paris on the Dawn Express service of Commercial Air Hire, Ltd., is again ready for work. The company has itself completed the overhaul of this machine and its two Siddeley jaguar geared .engines,.-the manufacturer being busily occupied with contracts in connection with the expansion of the Royal Air Force. While the Avro was in dock, two de Havilland Dragons have been doing the work.
LATEST NAVIGATION RESULTS: SUCCESS OF " C.M." ENTRANT.
THE. increasing demand for commercial pilots possessing the secondclass air navigator's licence is shown by the larger number of entries for the periodical Air Ministry examinations, and the fact that the Ministry will almost certainly hold the examination quarterly from now onwards, instead of half-yearly.
At the end of 1934 t4ere were only 134 current navigators' licences. . The Ministry is keeping up the technical standard of the examination and out of 53 candidates in October, only 15 passed in all subjects. They included the air-transport representative of The
Commercial Motor.
3 TONS OF MAIL FOR INDIA.
LAST Saturday, Imperial ,Airways, Ltd., sent the Vickers 4Velox to Karachi with part of *the heavy Christmas mail for India. Captain "Jimmy " Youell was in command and bad with him Mr. Woodhouse. The total mail on Saturday was nearly 3 tons, excluding the Australian Christmas mail, most of which went the previous week.