"Misguided" Justice to Milk Haulier
20th December 1935
Page 29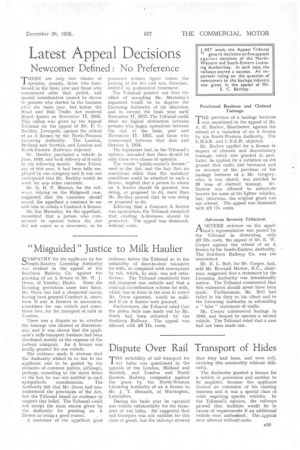 Page 29, 20th December 1935 —
"Misguided" Justice to Milk Haulier
Close
SYMPATHY for the applicant by the South-Eastern Licensing Authority was evident in the appeal of the Southern Railway Co. against the granting of an A licence to: Mr. H. J. Owen, of Yateley, Hants. Since the licensing provisions came into force, Mr. Owen has had a chequered career, having been granted. Contract A, sheetterm B and A licences in succession, sometimes for one vehicle and sometimes two, for the transport of milk to London.
There was a dispute as to whether the tonnage was claimed or discretionary, and it was shown that the applicant's milk-transport business had been developed mainly at the expense of the railway company. An A licence was finally granted for one vehicle.: The evidence made it obvious that the Authority wished to be fair to the applicant and to, be guided by the elements of common justice, although; perhaps, according to the :strict letter of the law, he was not entitled to such sympathetic consideration. The Authority felt that Mr.. Owen had misunderstood the provisiops of the .Act, but the Tribunal found no evidence to support this belief. The Tribunal could not accept the main reason given by the Authority for -granting an A
licence as being a good reason. -. A customer of the appellant gave evidence before the Tribunal as to the suitability of door-to-door transport for milk, as compared with conveyance by rail, which, he said, was not satisfactory. The Tribunal considered that rail transport was suitable and that a road-rail co-ordination scheme for milk, which was in force in the area in which Mr. Owen operated, would be nullified if an A licence were granted.
Furthermore, the Tribunal ruled that the prima facie case made out by Mr. Owen had been -rebutted by the Southern Railway. The appeal was allowed with £8 17s. costs.