Latest Appeal Decisions
20th December 1935
Page 29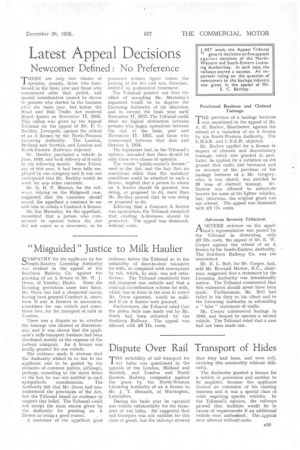 Page 29, 20th December 1935 —
Latest Appeal Decisions
Close
Newcomer Defined : No Preference
THERE are only two classes of Operator, namely, those who functioned in the basic year and those who commenced after that period, and special consideration cannot be shown to persons who started in the business after the basic year, but before the Road. and Rail Traffic Act 'received Royal Assent on November 17, 1933. This ruling was given by the Appeal Tribunal on the appeal of Mr. E. C. Barkley, Liverpobl, against the refusal of an .A licence by the North-Western Licensing Authority. The London, Midland and Scottish, and London and North-Eastern Railways objected.
Mr. Barkley purchased a vehicle in June, 1933, and took delivery of it early in the following month. Since February of this year, it had been fully employed by one company and it was not anticipated that Mr. Barkley would do work for any other customer.
Mr. G. H. P. Beanies, for the railways, relying on the Ridgewell case, suggested that the customer should` award the appellant a. contract to enable him to obtain a Contract A licence.
Mr. Ian Macaulay, for the appellant, submitted that a person who commenced to operate before the Act did not count as a newcomer, as he possessed certain rights before the passing of the Act and was, therefore, entitled to preferential treatment.
The Tribunal pointed out that the effect of accepting Mr.. Macaulay's argument would be to deprive the Licensing Authority of his discretion and to extend the basic year until November 17, 1933. The Tribunal could draw no logical distinction between persons who began operations between the end of the basic year and November 17, 1933, and those who commenced between that date and October 1, 1934.
The legislature had, in the Tribunal's opinion, intended that there should be only these two classes of operator.
The words "public carrier's licence," used in the Act, and the fact that no conditions other than the statutory conditions could be attached to such a licence, implied that a person to whom an A licence should be granted, was doing, or proposed to do, more than Mr. Barkley proved that he was doing or proposed to do.
Inferring that a Contract A licence was appropriate, the Tribunal remarked that existing A-licensees should be protected. The appeal was dismissed, without costs.