Chassis Developments During the Year
20th December 1935
Page 28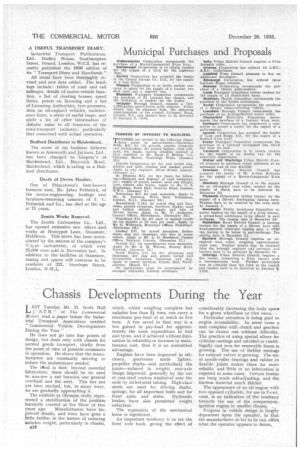 Page 28, 20th December 1935 —
Chassis Developments During the Year
Close
LAST Tuesday mr..11. Scott Hall (." S.T.R." of The Commercial *tor) read. a paper before the Industrial Transport Association entitled " Commercial Vehicle. Developments During the Year." •
He does not go into fine points of design, but deals only with chassis for normal goods transport, chiefly from the point of view of .possible economies in operation. He shows that the manufacturers are constantly striving to redute the maintenance needed.
The iiieal is that, beyond essential lubrication, there should be no need to unscrew a nut betWeen one general overhaul and the .neit. This has not yet been reached, hut' in ninny ways, *e are gradually approaching it.
The exhibits at Olympia: really represented a Stabilization of the position hurriedly createdat the Show of two years' ago. Manufakturers have improved details, and Schne have gone a little further in the Matter of reducing unladen weight, particularly in chassis,
818 which, whilst weighing complete but unladen less than 2i tons, can carry a maximum pay-load of as much as five tons. A ton saved in that way is a ton gained in pay-load for approximately the same expenditure in fuel and tyres, and if achieved withoutdintinution in reliability or increase in maintenance cost, then it is an undoubted advantage.
Engines have been improved in efficiency, gearboxes made lighter, propeller shafts—and particularly the joints—reduced in weight; rear-axle design improved. generally by the use of cast-steel centres reinforced near the ends by nickel:steel tubing. High-class steels are used for driving shafts, springs, for all important bolts and for front axles and stubs. Hydraulic brakes have also permitted weight reduction. , The expansion of the mechanical horse is significant.
An important tendency is to 'Set the front axle back, giving the effect of considerably increasing the body space for a given wheelbase or vice versa.
Particular attention is being paid to engine accessibility. In some cases a unit complete with clutch and gearbox can be drawn out without difficulty. The practice of using special alloys for cylinder castings and nitridecl -or-centrifugally cast iron for renewable liners is growing. The use of Stellite seating§ for exhaust valves is growing. The use of .needle-roller bearings and rubber flexible joints makes these far more reliable, and little or no lubrication -is required in some cases. Certain brakes are bong made self-adjusting, and the friction material much thicker.
The appearance of an oil engine with two opposed cylinders, for use in 7-cwt. vans, is an indication of the tendency towards the use of the compreasionignition engine:.in smaller chassi§. :
PrOiress in vehicle design -is :largely dependent upon the operatrii, hi that the manufacturer, so far as he can, offers what the operator appears to desire;