A USEFUL TRANSPORT DIARY.
20th December 1935
Page 28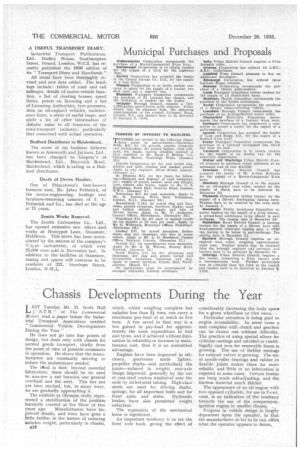 Page 28, 20th December 1935 —
A USEFUL TRANSPORT DIARY.
Close
Industrial Transport Publications, Ltd., Dudley House, Southampton Street. Strand, London, W.C.2, has recently published the 1936 edition of its " Transport Diary and Handbook."
All items have been thorbughly revised and new data added. The headings include: tables of road and rail mileages, details of motor-vehicle taxation, a list of clearing houses, speed limits, points on licensing and a list of Licensing Authorities, tyre pressures, data on oil-engined vehicles, maintenance hints, a series of useful maps, and quite a lot of other information of definite value to all branches of the road-transport industry, particularly that concerned with actual operation.
Bedford Distributor in Maidenhead.
The name of the business hitherto known as Ainsworth. and Jackson, Ltd., has been changed to Gregory's of Maidenhead, Ltd., Braywick Road, Maidenhead, which is-acting as a Bedford distributor.
, Death of Devon Haulier.
One of Princetown's best-known business men, Mr. Jabez Petherick, of the motor-engineering, haulage and furniture-removing concern of T. C. Petherick and Co.. has died at the age of 71 years.
Zenith Works Removal.
The Zenith Carburetter Co., Ltd., has opened extensive new offices and works at Honeypot Lane, Staumore, Middlesex. This move has been necessitated by the success of the company's V-type carburetter, of which over 2r1,000 were sold in November last. In addition to the • facilities at Stainnore, tuning and spares will continue tn. be available at .221, • Stanhope Street, London,. N.W.1.