• MAUDSLAY'S TRADING LOSS.
20th December 1935
Page 25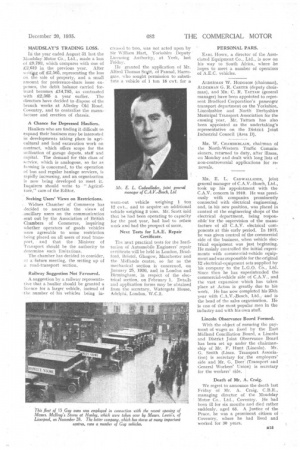 Page 25, 20th December 1935 —
• MAUDSLAY'S TRADING LOSS.
Close
In the year ended August 31 lastthe Maudslay Motor Ch., Ltd., made a loss of £9,793, which compares with one of £2,619 in the previous year. After i:itg off £2,505, representing the loss on the sale of property, and a small amount for preference-share issue expenses, the debit balance carried forward becomes £14,785, as contrasted with £2,365 a year earlier. The directors have decided to dispose of the branch works at Allesley Old Road, Coventry, and to centralize the manufacture and erection of chassis.
A Chance for Depressed Hauliers.
Hauliers who are finding it difficult to expand their business may be interested in developments taking place in agricultural .and land excavation work on contract, which offers scope for the utilization Of garage depots, staff and capital. The demand for this class of service, which is analogous, so far as farming is concerned, to the operation of bus and regular haulage services, is rapidly increasing, and an organization is now being developed to meet it. Inquirers should write to " Agriculture," care of the Editor.
Seeking Users' Views on Restrictions.
• • Widnes Chamber of Commerce has decided to ascertain the views of . ancillary users on the communication sent out by the Association of British Chambers of Commerce, inquiring whether operators of goods vehicles were agreeable to some restriction being placed on all users of road transport, and that the Minister of Transport should he the authority to determine such limitations.
The chamber has decided .to consider, al: a future meeting, the setting up of a road-transport section.
Railway Suggestion Not Favoured.
A suggestion by a railway representative that a haulier should be granted a licence for a larger vehicle, instead of -the number ofhis vehicles being in
creased to tWo,. was not acted upon by Sir William Hart, Yorkshire . Deputy Licensing Authority, at York, last Friday.
He granted the application of Mr. Alfred Thomas Scott, of Pannal, Harrogate, who sought permission to substitute a vehicle of 1 ton 18 cwt. for •a worn-out vehicle weighing I ton 12 cwt., and to acquire: an additional vehicle weighing 3 tons. Mr. Scott Said that be had been operating to capacity for the past year, had had to refuse -work and had the prospect of more.
Next Tests for IA.E. Repair Certificate.
The next practical tests for the Institution of Automobile Engineers' repair certificate will be held in London, Bradford, Bristol, Glasgow, Manchester and the Midlands centre, so far as the mechanical section is concerned, on January 25, 1936, and in London and Birmingham, in respect of the electrical section. on February 1. Details and application forms may be obtained from the secretary, Watergate House, Adelphi, London, W.C.2. PERSONAL PARS.
EARL HOWE, a director of the Associated Equipment Co., Ltd., is now on his way to South Africa, where be hopes to meet a number of operators of A.E.C. vehicles.
ALDEkMAN W. HODGSON (chairman), ALDERMAN G. R. CARTER (deputy chairman), and MR. C. H. TATTAM (general manager) have been appointed to represent Bradford Corporation's passenger transport department on the Yorkshire, Lincolnshire and North Derbyshire Municipal Transport Association for the ensuing year. Mr. Tattam has also been appointed as the undertaking's representative on the District joint Industrial Council (Area D).
Utz, W. CHAMBERLAIN, chairman of the North-Western Traffic Commissioners, returned to duty, after illness, on Monday and dealt with long lists of non-controversial applications for renewals.
MR, E. L. CADWALLADER, joint general manager of C.A,V.-Bosch, Ltd., took up his appointment with the C.A.V. concern in 1910. He was previously with companies prominently connected with electrical engineering, and, in his new position, was placed in control of the engineering shops of the electrical department, being responsible" for the supervision of the manufacture of al! C.A.V. electrical • components at this early period. In 1912, he was given control of the commercial side of the business, when vehicle electrical equipment was just beginning. He mainly controlled the initial experiments with commercial-vehicle equipment and was responsible for the original 12 electrical-equipment sets supplied by his company to the L.G.O. CO., Ltd. Since then he has superintended the commercial-vehicle side of C.A.V., and the vast expansion which has taken place at Acton is greatly due to his work. He has now completed his 25th year with C.A.V,Bosch, Ltd. ,• and is the head of the sales organization. He -is one of the most popular men in the industry and with his own staff.
Lincoln Observance Board Formed.
With the object of ensuring the payment of wages as fixed by the East Midland Conciliation Board, a Lincoln and District Joint Observance Board has been set up under the chairmanship of Mr. F. Hunt (Lincoln). Mr. G. Smith (Lincs. Transport Association) is secretary for the employers' side and Mr. G. Deer. (Transportand General Workers Union) is secretary for the workers' side.
Death of Mr. . Craig.
We regret to announce the death last Friday of Mr. A. Craig, C.B.E., managing director of • the Maudslay Motor Co., Ltd., Coventry, He had been ill for six months and died rather suddenly, aged 65, A Justice of the Peace, he was a prominent citizen of Coventry, where he had lived and worked for 30 years.
Tags
People
:
A. Craig
,
E. L. CADWALLADER
,
G. R. CARTER
,
W. CHAMBERLAIN
,
EARL HOWE
,
F. Hunt (Lincoln)
,
William Hart
,
Lincoln Observance
,
C. H. TATTAM
,
G. Deer
,
W. HODGSON
,
G. Smith
,
Scott Said
,
Alfred Thomas Scott