TRANSPORT REORGANIZATION: FALSE ALARM.
20th December 1935
Page 24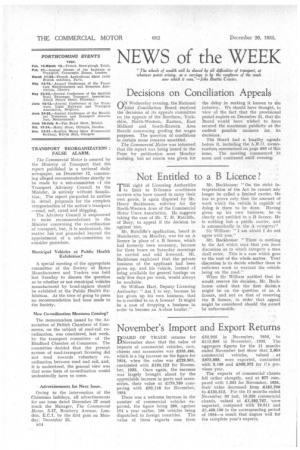 Page 24, 20th December 1935 —
TRANSPORT REORGANIZATION: FALSE ALARM.
Close
The Commercial Motor is assured by the Ministry of Transport that the report published in a national daily newspaper, on December 12, concerning alleged recommendations shortly to be made by a sub-committee cf the Transport Advisory Council to the Minister, is entirely without foundation. The report purported to outline in detail , proposals for the complete reorganization of the nation's transport —road, rail, canal and shipping.
The Advisory Council is empowered to make recommendations to the Minister concerning the co-ordination 'of transport, but, it is understood, the matter has not proceeded beyond the appointment of a sub-committee to consider procedure.
Municipal Vehicles at Public Health Exhibition?
A special meeting of the appropriate committee of the Society of Motor Manufacturers and Traders was held last Tuesday to discuss the question as to whether or not municipal vehicles manufactured by bond-signers should be exhibited at the Public Health Exhibition. At the time of going to press no recommendation had been made to the Society.
New Co-ordination Measures Coming?
The memorandum issued by the Association of British Chambers of Commerce, on the subject of road-rail coordination, was considered, last week, by the transport committee of the Bradford Chamber of Commerce. The committee decided that the present system of road-transport licensing did not tend towards voluntary coordination between road and rail, and, it is understood, the general view was that some form of co-ordination would undoubtedly have to come.
• Advertisements for Next Issue.
Owing to the intervention of the Christmas holidays, all advertisements for our issue dated December 27 must reach the Manager, The Commercial Motor, 5-17, Rosebery Avenue, London, E.C.1, by the first post on Monday, December 23.
n14