November's Import and Export Returns
20th December 1935
Page 24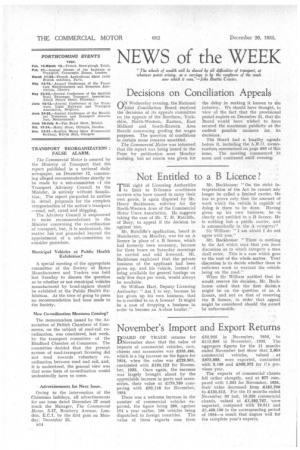 Page 24, 20th December 1935 —
November's Import and Export Returns
Close
BOARD OF TRADE returns for November show that the value of imports of commercial vehicles, cars, chassis and accessories was £335,486, which is a big increase on the figure for 1934, when the value was £228,801, contrasted with £150,123 for November, 1933. Once again, the increase was largely brought about by the appreciable increase in parts and accessories, their value at £179,789 comparing with £92,118 for November, 1934.
There was a welcome increase in the number of commercial vehicles exported, the figure being 280, against 174 a year earlier. 106 vehicles being dispatched to foreign countries. The value of these exports rose from £52,925 in November, /934, to £112,895 in November, 1935. The aggregate figures for the 11 months ended November last show that 2,053 commercial vehicles, valued at £673,085, were exported, contrasted with 2,198 and £598,372 for Ce previous year.
The exports of commercial chassis fell rather abruptly, and at 877 compared with 1,334 for November, 1934, their value decreased from £182,709 to £135,512. For the 11 months ended November 30 last, 10,326 commercial chassis, valued at £1,582,747, were exported, compared with 10,011 and £1,468,196 in the corresponding period of 1934—a result that augurs well for the complete year's exports.