Not Entitled to a B Licence ?
20th December 1935
Page 24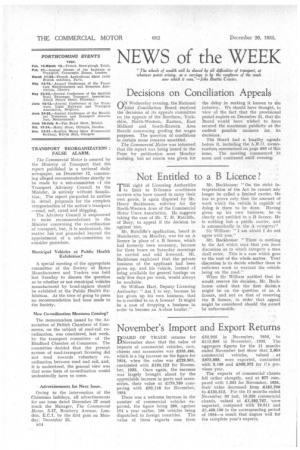 Page 24, 20th December 1935 —
Not Entitled to a B Licence ?
Close
THE right of Licensing Authorities to limit to B-licence conditions carriers who have ceased to carry their own goods, is again disputed by Mr. Henry Backhouse, solicitor for the North-Western Area of the Commercial Motor 'Users Association. He suggests taking the case of Mr. T. H. Ratcliffe, of Bury, to appeal if the decision be against him.
Mr. Ratcliffe's application, heard in Manchester, on Monday, was for an A licence in place of a B licence, which had formerly been necessary, because for three hours on Saturday mornings he carried and sold firewood. Mr. Backhouse explained that the private business of the applicant had been given up, and his vehicle, instead cf being available for general haulage on only five days per week, would always be available.
Sir William Hart, Deputy Licensing Authority: "Am I to say, because he has given up his own business, that he is entitled to an A licence? It might be a case of dropping a business in order to become an A-class haulier." Mr. Backhouse: " On the strict interpretation of the Act he cannot• any longer be called a limited carrier. He has to prove only that the amount of work which the vehicle is capable. of doing is there to be done. Having given up his own business, he is clearly not entitled to a B licence.. He is nothing but a public carrier, and is automatically in the A category:"
Sir William: " I am afraid I do not agree with you." .
Mr. 13ackhouse: " There is nothing in the Act which says that you have discretion as to which category a. man shall enter. This is a case which .goes to the root of the whole matter. Your discretion is to decide whether there is sefficient work to warrant the vehicle being on the road."
When Sir William notified that he would reserve his decision, Mr. Backhouse asked that the first decisicrt might be on the question of an Alicence, and not on that of renewing the B licence, in order that appeal might be considered should the award be unfavourable.