One Hears—
20th December 1935
Page 23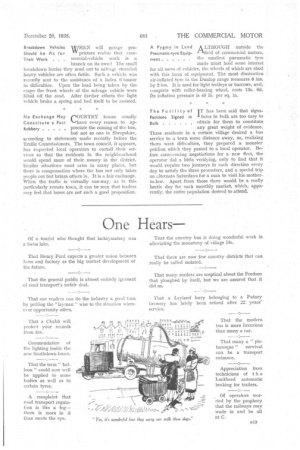 Page 23, 20th December 1935 —
One Hears—
Close
Of a tourist who thought that lachrymatory was a Swiss lake.
That Henry Ford expects a greater union between farm and factory as the big market development of the future.
That the general public is almost entirely ignorant of road transport's unfair deal.
That our readers can do the industry a good turn by putting the "layman " wise to the situation whenever opportunity offers.
• That a Chubb will protect your records from fire.
Commendation of the lighting inside the new Southdown buses. —c-
That the term" balloon " could now well be applied to some bodies as well as to certain tyres.
A . complaint that road transport regulae tion is like a fog--there is more in it than meets the eye.
That the country bus is doing wonderful work in alleviating the monotony of village life.
That there are now few country districts that can really be called isolated.
That many readers are sceptical about the Fordson that ploughed by itself, but we are assured that it did so.
That a Leyland lorry belonging to a Putney brewery has lately been retired after 22. years' service.
That the modern bus is more luxurious than many a car.
That many a " picturesque " survival can be a transport nuisance.
Appreciation from technicians of t h e Lockheed automatic braking for trailers.
Of operators worried by the prophecy that the railways may wade in and be all at C>