Passing Comments
20th December 1935
Page 22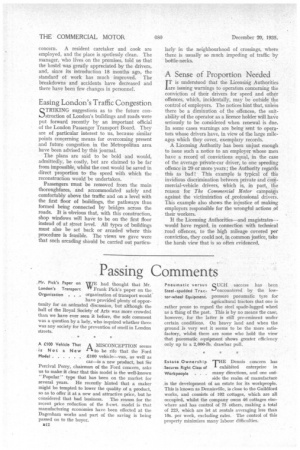 Page 23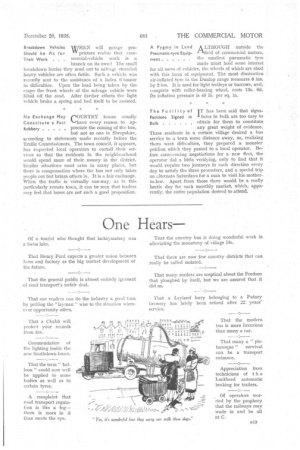 Page 22, 20th December 1935 —
Passing Comments
Close
• Mr. Pick's Paper on VUE had thought that Mr. London's Transport "Frank Pick's paper on the Organization . . . organization of transport would have provided plenty of opportunity for an animated discussion, but although the hall of the Royal Society of Arts was more crowded than we have ever seen it before, the sole comment was a question by a lady, who inquired whether there was any society for the prevention of smell in London streets.
A £100 Vehicle That A MISCONCEPTION seems is Not a New 1-14 to be rife that the Ford
Model £100 vehicle—van, as well as car—is a new product, but Sir Percival Perry, chairman of the Ford concern, asks us to make it clear that this model is the well-known Popular" type that has been on the market for several years. He recently hinted that a maker might be tempted to lower the quality of a product, so as to offer it at a new and attractive price, but he considered that bad business. The reason for the recent price reduction of the 5-cwt. model is that manufacturing economies have been effected at the Dagenham works and part of the saving is being passed on to the buyer.
B12
SIICH success has been encountered by the lowpressure pneumatic tyre for agricultural tractors that one is rather prone to regard the steel spade-lugged wheel as a thing of the past. This is by no means the case, however, for the latter is still pre-eminent under certain conditions. On heavy land and when the ground is very wet it seems to be the More satisfactory, whilst there are some who hold the view that pneumatic equipment shows greater efficiency only up to a 2,000-lb. drawbar pull. Pneumatic versus Steel-spudded Tractor-wheel Equipment.
Estate Ownership l'HE Dennis concern has Secures Right Class of I exhibited enterprise in Work people many directions, and one out side the realm of manufacture is the development of an estate for its workpeople. This is known as Dennisville, is close to the Guildford works, and consists of 102 cottages, which are all occupied, whilst the company owns 46 cottages elsewhere and has control of 75 others, making a total of 223, which are let at rentals averaging less than 10s. per week, excluding rates. The control of this property minimizes many labour difficulties. Breakdown Vehicles Should be Fit for Their Work . . . WHEN will garage pro" prietors realize that commercial-vehicle work is a branch on its own? The small breakdown lorries they send out to salvage stranded heavy vehicles are often futile. Such a vehicle was recently sent to the assistance of a laden 6-tonner in difficulties. Upon the load being taken by the crane the front wheels of the salvage vehicle were lifted off the road. After further efforts the light Vehicle broke a spring and had itself to be assisted.
No Exchange May rOUNTRY towns nsually
Constitute a Fair have every reason to ap
Rcibbery preciate the coming of the bus,
but not so one in Shropshire, according to ,statements made recently before the Traffic Commissioners. The town council, it appears, has requested local operators to curtail .their services so that the residents in the neighbourhood would spend more of their, money in the district. Similar situations must arise in many places, but there is compensation where the bus not only takes people out but brings others in. It is a fair exchange. When the traffic. is virtually one-way; as in this Particularly remote town, it can be seen that traders may feel that buses are not such a:good proposition.
A Pygmy in Land A LTHOUGH outside the Pneumatic-tyre Equipr-kfield of commercial motors,
ment the smallest pneumatic tyre
made must hold some interest for all users of vehicles, the wheels of which are shod with this form of equipment. The most diminutive air-inflated tyre in the Dunlop range measures 8 ins. by 2 ins. It is used for light trolleys or barrows, and, complete with roller-bearing wheel, costs 13s. 6d. Its inflation pressure is 45 lb. per sq. in.
The Futility of IT has been said that signa Petitions Signed in fares in bulk are too easy to Bulk obtain for them to constitute
any great weight of evidence. Three residents in a certain village desired a bus service to a town some distance away, so, realizing there were difficulties, they prepared a monster petition which they passed to a local operator. Before commencing negotiations for a new fleet, the operator did a little verifying, only to find that it would require two journeys in each direction every day to satisfy the three promoters, and a special trip on alternate Saturdays for a man to visit his motherin-law. Apart from those there would be a really hectic day for each monthly market, which, apparently, the entire population desired to attend.