Section 8 for five firms
20th August 1983
Page 7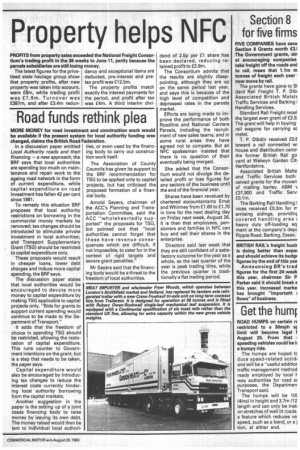 Page 7, 20th August 1983 —
Section 8 for five firms
Close
FIVE COMPANIES have secu Section 8 Grants worth 0.1 The Government grants, amn at encouraging companies take freight off the roads and to rail, mean that 1 .1 m m tonnes of freight each year now move by rail.
The grants have gone to SI dard Rail Freight T. P. Dibi Associated British MalstE Traffic Services and Barking I Handling Services.
Standard Rail Freight recei. the largest ever grant of £2.5; The grant will help in buying rail wagons for carrying sc metal.
T. P. Dibdin received DIE toward a rail connected IAA house and distribution centn the former British Rail go yard at Welwyn Garden Cit■ Hertfordshire.
Associated British Malts. and Traffic Services both ceived grants for the moverr of malting barley. ABM ■■ £31,900 and Traffic Servi £0.1m.
The Barking Rail Handling vices received f0.3m for rr ernising sidings, providirm covered handling area E heavy duty off-loading eq ment at the company's depc Ripple Road, Barking, Essex.
BRITISH RAIL's freight busir is doing better than expe( and should achieve its budg( figures by the end of this yea Announcing BR's trad figures for the first 24 week this year, chairman Sir P Parker said it should break e this year. Increased marke has brought "importatit flows" of business.