In memory of Mark
20th August 1983
Page 50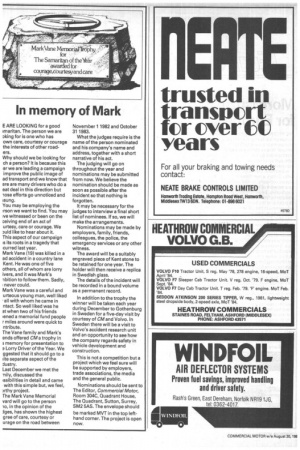 Page 50, 20th August 1983 —
In memory of Mark
Close
E ARE LOOKING for a good imaritan. The person we are Dking for is one who has own care, courtesy or courage the interests of other roaders.
Why should we be looking for ch a person? It is because this ar we are leading a campaign improve the public image of ad transport and we know that are are many drivers who do a eat deal in this direction but lose efforts go unnoticed and isung.
You may be employing the rson we want to find. You may lye witnessed or been on the ceiving end of an act of urtesy, care or courage. We )uld like to hear about it. This aspect of our campaign is its roots in a tragedy that curred last year.
Mark Vane (19) was killed in a ad accident in a country lane Kent. He was one of five others, all of whom are lorry ivers, and it was Mark's ibition to follow them. Sadly, never could.
Mark Vane was a careful and urteous young man, well liked all with whom he came in ntact. So well liked was he at when two of his friends sened a memorial fund people r miles around were quick to ntribute.
The Vane family and Mark's ends offered CMa trophy in 3 memory for presentation to a Lorry Driver of the Year. We ggested that it should go to a lite separate aspect of the Justry.
Last December we met the -nily, discussed the
ssibilities in detail and came with this simple but, we feel, nthy project.
The Mark Vane Memorial yard will go to the person lo, in the opinion of the lges, has shown the highest gree of care, courtesy or u rage on the road between November 1 1982 and October 311983.
What the judges require is the name of the person nominated and his company's name and address, together with a short narrative of his act.
The judging will go on throughout the year and nominations may be submitted from now. We believe the nomination should be made as soon as possible after the incident so that nothing is forgotten.
It may be necessary for the judges to interview a final short list of nominees. If so, we will make the arrangements.
Nominations may be made by employers, family, friends, colleagues, the police, the emergency services or any other witness.
The award will be a suitably engraved piece of Kent stone to be retained for one year. The holder will then receive a replica in Swedish glass.
The details of the incident will be recorded in a bound volume as a permanent record.
In addition to the trophy the winner will be taken each year during December to Gothenburg in Sweden for a five-day visit by courtesy of CM and Volvo. In Sweden there will be a visit to Volvo's accident research unit and an opportunity to see how the company regards safety in vehicle development and construction.
This is not a competition but a project which we feel sure will be supported by employers, trade associations, the media and the general public.
Nominations should be sent to The Editor, Commercial Motor, Room 304C, Quadrant House, The Quadrant, Sutton, Surrey, SM2 5AS. The envelope should be marked MVT in the top lefthand corner. The project is open now.