Tribunal hammers LA
20th August 1983
Page 5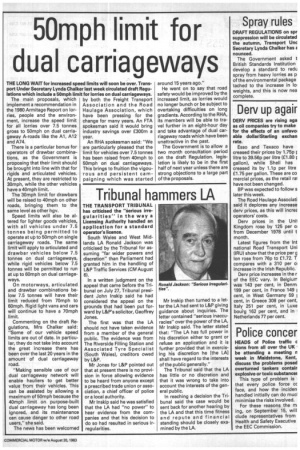 Page 5, 20th August 1983 —
Tribunal hammers LA
Close
THE TRANSPORT TRIBUNAL has criticised the "serious irregularities" in the way a Licensing Authority handled an application for a standard operator's licence.
South Wales and West Midlands LA Ronald Jackson was criticised by the Tribunal for assuming "far wider powers and discretion" than Parliament had granted him in the handling of L&P Traffic Services (CM August 6).
In a written judgment on the appeal that came before the Tribunal on July 27, Tribunal president John lnskip said he had considered the appeal on the grounds that had been put forward by L&P's solicitor, Geoffrey Jones.
The first was that the LA should not have taken evidence from a member of the general public. The evidence was from The Riverside Filling Station and Associated Tyre Specialist (South Wales), creditors owed by L&P.
Mr Jones for L&P pointed out that at present there is no provision in force allowing evidence to be heard from anyone except a prescribed trade union or association, a chief officer of police or a local authority.
Mr lnskip said he was satisfied that the LA had "no power" to hear evidence from the companies and that his decision to do so had resulted in serious irregularities. Mr lnskip then turned to a letter the LA had sent to L&P giving guidance about inquiries. The letter contained "serious inaccuracies" over the power of the LA, Mr lnskip said. The letter stated that: "The LA has full power in his discretion either to grant or refuse an application and it is further provided that in exercising his discretion he [the LA] shall have regard to the interests of the public generally."
The Tribunal said that the LA has little or no discretion and that it was wrong to take into account the interests of the general public.
In reaching a decision the Tribunal said the case would be sent back for another hearing by the LA and that this time fitness and repute and financial standing should be closely examined by the LA.