Dery up agair
20th August 1983
Page 5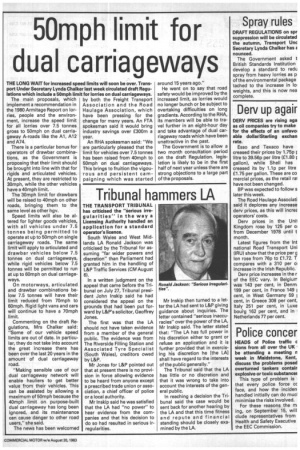 Page 5, 20th August 1983 —
Dery up agair
Close
DERV PRICES are rising aga as oil companies try to make for the effects of an unfava able dollar/Sterling exchan rate.
Esso and Texaco have creased their prices by 1.75p litre to 39,56p per litre (£1.80 r gallon), while Shell has creased its by 1.1p per litre £1.75 per gallon. These are co mercial prices, as the retail rai have not been changed.
BP was expected to follow s later this week.
The Road Haulage Associati said it deplores any increase dery prices, as this will increz operators' costs.
Dery prices in the Unit Kingdom rose by 125 per ci from December 1978 until t month.
Latest figures from the Int national Road Transport Uni (IRU) show that the price per g Ion rose from 76p to £1.72. T compares with a 310 per ci increase in the Irish Republic.
Dery price increases in the r of the EEC vary. In Belgiurr was 143 per cent, in Denm, 199 per cent, in France 149 I cent, in West Germany 59 I cent, in Greece 308 per cent, Italy 251 per cent, in Luxe bou'rg 162 per cent, and in I Netherlands 77 per cent.