50mph limit for dual carriageways
20th August 1983
Page 5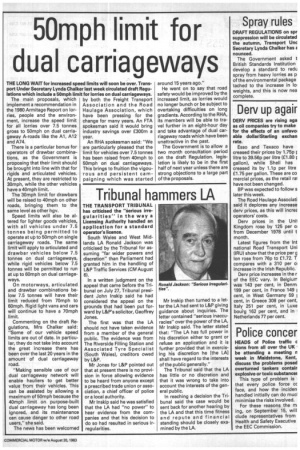 Page 5, 20th August 1983 —
50mph limit for dual carriageways
Close
THE LONG WAIT for increased speed limits will soon be over. Transport Under Secretary Lynda Chalker last week circulated draft Regulations which include a 50mph limit for lorries on dual carriageways. The main proposals, which implement a recommendation in the 1980 Armitage Report on lorries, people and the environment, increase the speed limit for all lorries over 7,5 tonnes gross to 50mph on dual carriageway A-roads like the Al, Al2 and A74.
There is a particular bonus for operators of drawbar combinations, as the Government is proposing that their limit should be brought into line with that for rigids and articulated vehicles. At present, they are restricted to 30mph, while the other vehicles have a 40mph limit.
The 30mph limit for drawbars will be raised to 40mph on other roads, bringing them to the same level as other hgv.
Speed limits will also be altered for lighter goods vehicles, with all vehicles under 7.5 tonnes being permitted to operate at up to 50mph on single carriageway roads. The same limit will apply to articulated and drawbar vehicles below 7.5 tonnes on dual carriageways, while rigid vehicles below 7.5 tonnes will be permitted to run at up to 60mph on dual carriageways.
On motorways, articulated and drawbar combinations below 7.5 tonnes will have their limit reduced from 70mph to 60mph. Rigid light vans and cars will continue to have a 70mph limit.
Commenting on the draft Regulations, Mrs Chalker said: "Some of our vehicle speed limits are out of date. In particular, they do not take into account the great increase there has been over the last 20 years in the amount of dual carriageway road.
"Making sensible use of our dual carriageway network will enable hauliers to get better value from their vehicles. This can be assisted by allowing a maximum of 50mph because the 40mph limit on purpose-built dual carriageway has long been ignored, and its maintenance can cause danger to other road users," she said.
The news has been welcomed by both the Freight Transport Association and the Road Haulage Association, which have been pressing for the change for many years. An FTA spokesman said it would bring industry savings over £300m a year.
An RHA spokesman said: "We are particularly pleased that the limit for vehicles over 7.5 tonnes has been raised from 40mph to 50mph on dual carriageways. This brings to fruition the vigourous and persistent campaigning which was started around 15 years ago."
He went on to say that road safety would be improved by the increased limit, as lorries would no longer bunch or be subject to overtaking difficulties on long gradients. According to the RHA, its members will be able to travel further in an eight-hour day and take advantage of dual carriageway roads which have been unattractive in the past.
The Government is to allow a two month consultation period on the draft Regulation, legislation is likely to be in the first half of next year unless there are strong objections to a large part of the proposals.