We can't simply copy
20th August 1983
Page 46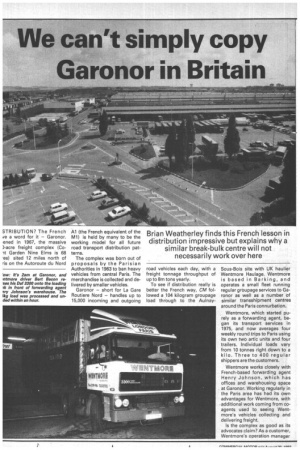 Page 47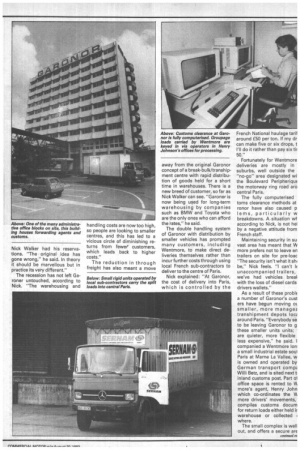 Page 46, 20th August 1983 —
We can't simply copy
Close
STRIBUTION? The French ve a word for it — Garonor. ened in 1967, the massive )-acre freight complex (Co-it Garden Nine Elms is 68 .es) sited 12 miles north of ris on the Autoroute du Nord
Al (the French equivalent of the M1) is held by many to be the working model for all future road transport distribution patterns.
The complex was born out of proposals by the Parisian Authorities in 1963 to ban heavy vehicles from central Paris. The merchandise is collected and delivered by smaller vehicles.
Garonor — short for La Gare Routiere Nord — handles up to 15,000 incoming and outgoing road vehicles each day, with a freight tonnage throughput of up to 8m tons yearly.
To see if distribution really is better the French way, CM followed a 104 kilogram groupage load through to the Aulnay
Sous-Bois site with UK haulier Wentmore Haulage. Wentmore is based in Barking, and operates a small fleet running regular groupage services to Garonor as well as a number of similar transshipment centres around the Paris connurbation, Wentmore, which started purely as a forwarding agent, began its transport services in 1975, and now averages four weekly round trips to Paris using its own two artic units and four trailers. Individual loads vary from 10 tonnes right down to a kilo. Three to 400 regular shippers are the customers.
Wentmore works closely with French-based forwarding agent Henry Johnson, which has offices and warehousing space at Garonor. Working regularly in the Paris area has had its own advantages for Wentmore, with .additional work coming from coagents used to seeing Wentmore's vehicles collecting and delivering freight.
Is the complex as good as its advocates claim? As a customer, Wentmore's operation manager Nick Walker had his reservations. "The original idea has gone wrong," he said. In theory it should be marvellous but in practice its very different."
The recession has not left Garoner untouched, according to Nick. "The warehousing and handling costs are now too high, so people are looking to smaller centres, and this has led to a vicious circle of diminishing returns from fewer' customers, which leads back to higher costs."
The reduction in through freight has also meant a move away from the original Garonor concept of a break-bulk/transhipment centre with rapid distribution of goods held for a short time in warehouses, There is a new breed of customer, so far as Nick Walker can see. "Garoner is now being used for long-term warehousing by companies such as BMW and Toyota who are the only ones who can afford the rates," he said.
The double handling system of Garonor with distribution by smaller vehicles has prompted many customers, including Wentmore, to make direct deliveries themselves rather than incur further costs through using local French sub-contractors to deliver to the centre of Paris.
Nick explained: "At Garonor, the cost of delivery into Paris, which is controlled by the French National haulage tarif around £50 per ton. If my dr can make five or six drops, t I'll do it rather than pay six tir 50."
Fortunately for Wentmore deliveries are mostly in suburbs, well outside the "no-go" area designated wi the Boulevard PeripheriquE the motorway ring road aro central Paris.
The fully computerised toms clearance methods at ronor have also caused p lems, particularly w breakdowns. A situation wV according to Nick, is not hel by a negative attitude from French staff.
Maintaining security in su vast area has meant that W more prefers not to leave en trailers on site for pre-loac "The security isn't what it shi be," Nick feels. "I can't k unaccompanied trailers, we've had vehicles breal, with the loss of diesel cards drivers wallets."
As a result of these probk a number of Garonor's cust ers have begun moving OL smaller, more manageE transhipment depots loci. around Paris. "Everybody se to be leaving Garonor to g these smaller units units; • are quieter, more flexible less expensive," he said. I companied a Wentmore lorr a small industrial estate soul Paris at Marne La Vallee, w is owned and operated by German transport comm. Willi Betz, and is sited next t, inland customs post. Part ol office space is rented to 'A more's agent, Henry John which co-ordinates the IA more drivers' movements, compiles customs docum for return loads either held ir warehouse or collected I where.
The small complex is well out, and offers a secure arE