Editorial Vlore speed, less waste
20th August 1983
Page 4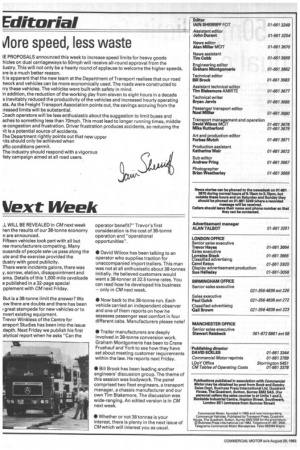 Page 4, 20th August 1983 —
Editorial Vlore speed, less waste
Close
IE PROPOSALS announced this week to increase speed limits for heavy goods hides on dual carriageways to 50mph will receive all-round approval from the lustry. This will not only be a hearty round of applause to welcome the higher speeds, re is a much better reason.
It is apparent that the new team at the Department of Transport realises that our road twork and vehicles can be more economically used. The roads were constructed to rry these vehicles. The vehicles were built with safety in mind.
In addition, the reduction of the working day from eleven to eight hours in a decade s inevitably reduced the productivity of the vehicles and increased hourly operating sts. As the Freight Transport Association points out, the savings accruing from the :reased limits will be substantial.
:oach operators will be less enthusiastic about the suggestion to limit buses and aches to something less than 70mph. This must lead to longer running times, middle le congestion and frustration. Driver frustration produces accidents, so reducing the iit is a potential source of accidents.
The Department rightly points out that new upper iits should only be achieved when )ffic conditions permit.
The industry should respond with a vigorous fety campaign aimed at all road users.