Enjoy the bright day, Mr Cropper!
20th August 1983
Page 38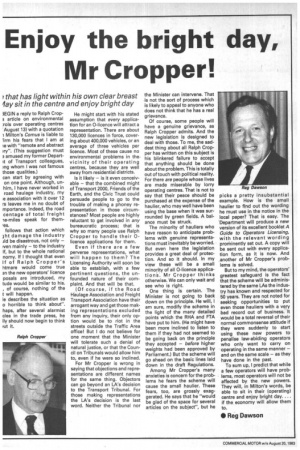 Page 38, 20th August 1983 —
Enjoy the bright day, Mr Cropper!
Close
Keywords :
that has light within his own clear breast lay sit in the centre and enjoy bright day
3EGIN a reply to Ralph Crop; article on environmental .rols over operating centres August 13) with a quotation Milton's Comus is liable to rirm his fears that I am at le with "remote and abstract iry". (This suggestion must a amused my former Departit of Transport colleagues, mg whom I was not famous those qualities.) can start by agreeing with on one point. Although, unhim, I have never worked in road haulage industry, my e association with it over 12 rs leaves me in no doubt of mportance. Indeed, the road centage of total freight le-miles speak for them
follows that action which jht damage the industry JId be disastrous, not only — ven mainly — to the industry If, but to the whole national nomy. If I thought that even If of Ralph Cropper's htmare would come true 3n the new operators' licence posals are introduced, my tude would be similar to his. , of course, nothing of the t will happen.
le describes the situation as o horrible to think about". haps, after several alarmist cles in the trade press, he Ily should now begin to think iut it.
He might start with his stated assumption that every application for an 0-licence will attract a representation. There are about 130,000 licences in force, covering about 400,000 vehicles, or an average of three vehicles per licence. Most of these cause no environmental problems in the vicinity of their operating centres, because they are well away from residential districts.
Is it likely — is it even conceivable — that the combined might of Transport 2000, Friends of the Earth, and the Civic Trust could persuade people to go to the trouble of making a phoney representation in those circumstances? Most people are highly reluctant to get involved in any bureaucratic process; that is why so many people use Ralph Cropper to handle their 0licence applications for them.
Even if there are a few perverse representations, what will happen to them? The Licensing Authority will soon be able to establish, with a few pertinent questions, the unfounded nature of their complaint. And that will be that.
(Of course, if the Road Haulage Association and Freight Transport Association have their arrogant way and get those making representations excluded from any inquiry, their only option would be to riot in the streets outside the Traffic Area office! But I do not believe for one moment that the Minister will tolerate such a denial of natural justice, or that the Council on Tribunals would allow him to, even if he were so inclined.
For Mr Cropper is wrong in saying that objections and representations are different names for the same thing. Objectors can go beyond an LA's decision to the Transport Tribunal. For those making representations the LA's decision is the last word. Neither the Tribunal nor the Minister can intervene. That is not the sort of process which is likely to appeal to anyone who does not think that he has a real grievance.
Of course, some people will have a genuine grievance, as Ralph Cropper admits. And the new legislation is designed to deal with those. To me, the saddest thing about all Ralph Cropper has written on this subject is his blinkered failure to accept that anything should be done about the problem. This is totally out of touch with political reality. For there are people whose lives are made miserable by lorry operating centres. That is not to say that their peace should be purchased at the expense of the haulier, who may well have been using the base when it was surrounded by green fields. A balance must be struck.
The minority of hauliers who have reason to anticipate problems with genuine representations must inevitably be worried. But even here the legislation provides a great deal of protection. And so it should. In my view these will be a small minority of all 0-licence applications. Mr Cropper thinks otherwise. We can only wait and see who is right.
One thing is certain. The Minister is not going to back down on the principle. He will, I am sure, modify the scheme in the light of the many detailed points which the RHA and FTA have put to him. (He might have been more inclined to listen to them if they had not seemed to be going back on the principle they accepted — before higher weights had been approved by Parliament.) But the scheme will go ahead on the basic lines laid down in the draft Regulations.
Among Mr Cropper's many anxieties is concern for the problems he fears the scheme will cause the small haulier. These fears, too, are grossly exaggerated. He says that he "would be glad of the space for several articles on the subject", but he picks a pretty insubstantial example. How is the small haulier to find out the wording he must use in the notice in the local paper? That is easy. The Department will produce a new version of its excellent booklet A Guide to Operators Licensing, with the relevant wording prominently set out. A copy will be sent out with every application form, as it is now. And another of Mr Cropper's problems is solved.
But to my mind, the operators' greatest safeguard is the fact that the scheme will be administered by the same LAs the industry has known and respected for 50 years. They are not noted for seeking opportunities to put even those hauliers with a very bad record out of business. It would be a total reversal of their normal commonsense attitude if they were suddenly to start using these new powers to penalise law-abiding operators who only want to carry on operating in the same manner — and on the same scale — as they have done in the past.
To sum up, I predict that while a few operators will have problems, most operators will not be affected by the new powers. They will, in Milton's words, be able to sit in their (operating) centre and enjoy bright day.... if the economy will allow them to.