Simons taking knocks and coming up smiling
20th August 1983
Page 28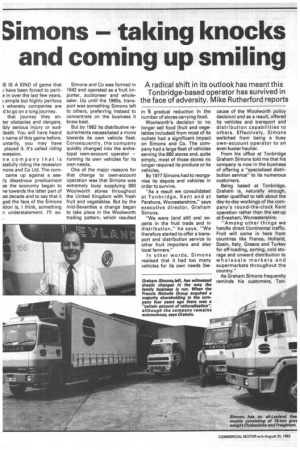 Page 29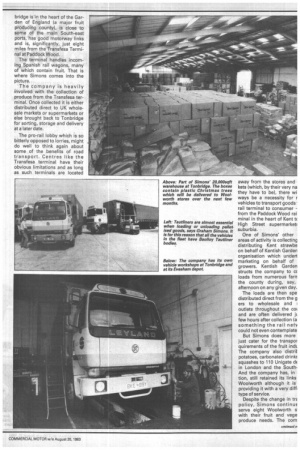 Page 30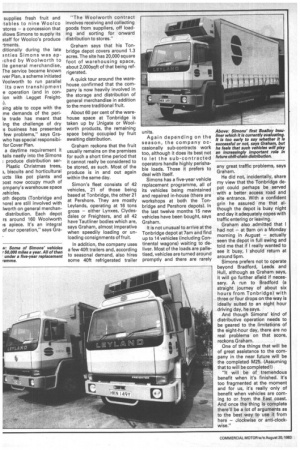 Page 28, 20th August 1983 —
Simons taking knocks and coming up smiling
Close
IE IS A KIND of game that f have been forced to pa rtie in over the last few years. simple but highly perilous 3 whereby companies are d to go on a long journey.
that journey they enter obstacles and dangers, ibly serious injury or suddeath. You will have heard 3 name of this game before. untarily, you may have played it. It's called riding 9cession.
ne company that is 3ssfully riding the recession nons and Co Ltd. The comcame up against a seeIy disastrous predicament as the economy began to ne towards the latter part of 3st decade and to say that it ged the face of the Simons ation is, I think, something n understatement. I'll ex Simons and Co was formed in 1842 and operated as a fruit importer, auctioneer and wholesaler. Up until the 1960s, transport was something Simons left to others, preferring instead to concentrate on the business it knew best.
But by 1962 its distributive requirements necessitated a move towards its own vehicle fleet. Consequently, the company quickly changed into the archetypal own-account operator — running its own vehicles for its own needs.
One of the major reasons for that change to own-account operation was that Simons was extremely busy supplying 880 Woolworth stores throughout the United Kingdom with fresh fruit and vegetables. But by the mid-Seventies a change began to take place in the Woolworth trading pattern, which resulted in a gradual reduction in the number of stores carrying food.
Woolworth's decision to no longer sell food (fruit and vegetables included) from most of its outlets had a significant impact, on Simons and Co. The company had a large fleet of vehicles serving the 880 stores and, quite simply, most of those stores no longer required its produce or its vehicles.
By 1977 Simons had to reorganise its depots and vehicles in order to survive.
"As a result we consolidated at Tonbridge, Kent and at Pershore, Worcestershire," says executive director, Graham Simons.
"We were (and still are) experts in the fruit trade and in distribution," he says. "We therefore started to offer a transport and distribution service to other fruit importers and also local farmers."
In other words, Simons realised that it had too many vehicles for its own needs (be
cause of the Woolworth policy decision) and as a result, offered its vehicles and transport and distribution capabilities to others. Effectively, Simons switched from being a busy own-account operator to an even busier haulier.
From his office at Tonbridge Graham Simons told me that his company is now in the business of offering a "specialised distribution service" to its numerous customers.
Being based at Tonbridge, Graham is, naturally enough, better qualified to talk about the day-to-day workings of the company's round-the-clock Kent operation rather than the set-up at Evesham, Worcestershire.
"Among other things we handle direct Continental traffic. Fruit will come in here from countries like France, Holland, Spain, Italy, Greece and Turkey for off-loading, sorting, cold storage and onward distribution to wholesale markets and supermarkets throughout the country."
As Graham Simons frequently reminds his customers, Ton bridge is'in the heart of the Garden of England (a major fruit producing county), is close to some of the main South-east ports, has good motorway links and is, significantly, just eight miles from the Transfesa Terminal at Paddock Wood.
The terminal handles incoming Spanish rail wagons, many of which contain fruit. That is where Simons comes into the picture.
The company is heavily involved with the collection of produce from the Transfesa terminal. Once collected it is either distributed direct to UK wholesale markets or supermarkets or else brought back to Tonbridge for sorting, storage and delivery at a later date.
The pro-rail lobby which is so bitterly opposed to lorries, might do well to think again about some of the benefits of road transport. Centres like the Transfesa terminal have their obvious limitations and as long as such terminals are located
away from the stores and kets (which, by their very na they have to be), there wi ways be a necessity for r vehicles to transport goods. rail terminal to consumer from the Paddock Wood rai mina] in the heart of Kent tc High Street supermarket5. suburbia.
One of Simons' other areas of activity is collecting distributing Kent strawbe on behalf of Kentish Garden organisation which undert marketing on behalf of growers. Kentish Garden structs the company to cc loads from numerous farn the county during, say, afternoon on any given day.
The loads are then spe distributed direct from the g ers to wholesale and outlets throughout the cot and are often delivered few hours after collection (a something the rail netv could not even contemplate But Simons does more just cater for the transpor quirements of the fruit indt. The company also distill: potatoes, carbonated drink: squashes to 110 Unigate dc in London and the SouthAnd the company has, in tion, still retained its links Woolworth although it is providing it with a very difft type of service.
Despite the change in trE policy, Simons continuE serve eight Woolworth s with their fruit and vege produce needs. The corn supplies fresh fruit and
tables to nine Woolco .stores — a concession that 31lows Simons to supply its staff for Woolco's produce iments,
ditionaily during the late 3nties Simons was apiched by Woolworth to Ile general merchandise, the service became known iver Plan, a scheme initiated Voolworth to run parallel its own transhipment e operation (and in conion with Legget Freight ing able to cope with the me demands of the perile trade has meant that ing the challenge of dry s business has presented few problems," says Grawho has special responsibifor Cover Plan.
a daytime requirement it tails neatly into the Simons : produce distribution ser
Plastic Christmas trees, 3, biscuits and horticultural ucts like pot plants and post now occupy much of ompany's warehouse space rehicles.
oth depots (Tonbridge and lore) are still involved with lworth on general merchandistribution. Each depot rs around 160 Woolworth apiece. It's an integral of our operation," says Gra "The Woolworth contract involves receiving and collecting goods from suppliers, off loading and sorting for onward distribution to stores."
Graham says that his Tonbridge depot covers around 1.3 acres. The site has 20,000 square foot of warehousing space, about 2,000sqft of that being refrigerated.
A quick tour around the warehouse,confirmed that the company is now heavily involved in the storage and distribution of general merchandise in addition to the more traditional fruit.
About 60 per cent of the warehouse space at Tonbridge is taken up by 'Jnigate or Woolworth products, the remaining space being occupied by fruit awaiting distribution.
Graham reckons that the fruit usually remains on the premises for such a short time period that it cannot really be considered to be stored, as such. Most of the produce is in and out again within the same day.
Simon's fleet consists of 42 vehicles, 21 of those being based at Tonbridge, the other 21 at Pershore. They are mostly Leylands, operating at 16 tons gross — either Lynxes, Clydesdales or Freighters, and all 42 have Tautliner bodies which are, says Graham, almost imperative when speedily loading or unloading consignments of fruit.
In addition, the company uses a few 40ft trailers and, according to seasonal demand, also hires some 40ft refrigerated trailer Again depending on the season, the company occasionally sub-contracts work too, although it does its best not to let the sub-contracted operators handle highly perishable loads. Those it prefers to deal with itself.
Simons has a five-year vehicle replacement programme, all of its vehicles being maintained and repaired in-house (there are workshops at both the Tonbridge and Pershore depots). In the last twelve months 15 new vehicles have been bought, says Graham.
It is not unusual to arrive at the Tonbridge depot at 7am and find up to 14 vehicles (including Continental wagons) waiting to deliver. Most of the loads are palletised, vehicles are turned around promptly and there are rarely any great traffic problems, says Graham.
He did not, incidentally, share my view that the Tonbridge depot could perhaps be served with a better access road and site entrance, With a confident grin he assured me that although the depot is busy night and day it adequately copes with traffic entering or leaving.
Graham also admitted that I had not — at 9am on a Monday morning in August — actually seen the depot in full swing and told me that if I really wanted to see it busy, I should return at around 5pm.
Simons prefers not to operate beyond Bradford, Leeds and Hull, although as Graham says, it will go further afield if necessary. A run to Bradford (a straight journey of about six hours from Tonbridge) with three or four drops on the way is ideally suited to an eight hour driving day, he says.
And though Simons' kind of distributive operation needs to be geared to the limitations of the eight-hour day, there are no real problems on that score, reckons Graham.
One of the things that will be of great assistance to the company in the near future will be the completed M25. (Assuming that to will be completed?) "It will be of tremendous benefit when it's finished. It's too fragmented at the moment and for us, its really only of benefit when vehicles are coming to or from the East coast. And once the thing is complete there'll be a lot of arguments as to the best way to use it from here — dockwise or anti-clockwise."