Brain Haulage doing what it knows best
20th August 1983
Page 24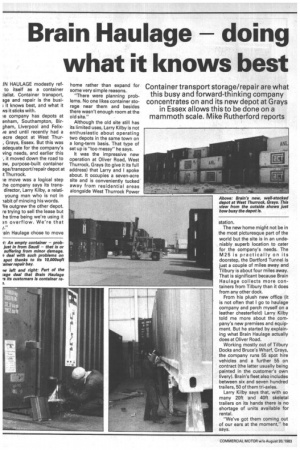 Page 25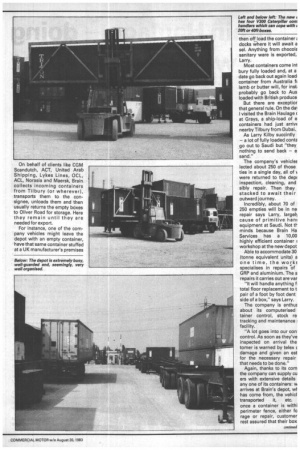 Page 26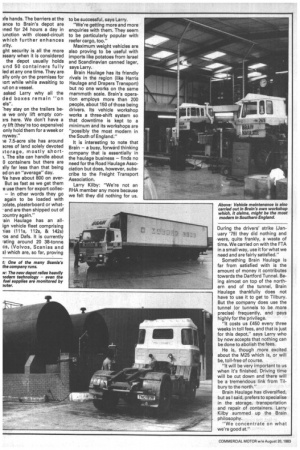 Page 24, 20th August 1983 —
Brain Haulage doing what it knows best
Close
IN HAULAGE modestly refto itself as a container
Container transport, age and repair is the busii it knows best, and what it Ns it sticks with.
le company has depots at enham, Southampton, Birgham, Liverpool and Felixie and until recently had a acre depot at West Thur, Grays, Essex. But this was adequate for the company's ving needs, and earlier this :, it moved down the road to aw, purpose-built container age/transport/repair depot at Thurrock.
le move was a logical step :he company says its transdirector, Larry Kilby, a relatiyoung man who is not in labit of mincing his words.
Ve outgrew the other depot. re trying to sell the lease but he time being we're using it an overflow. We're that home rather than expand for some very simple reasons.
"There were planning problems. No one likes container storage near them and besides there wasn't enough room at the old site."
Although the old site still has its limited uses, Larry Kilby is not enthusiastic about operating two depots in the same town on a long-term basis. That type of set up is "too messy" he says.
It was the impressive new operation at Oliver Road, West Thurrock, Grays (to give it its full address) that Larry and I spoke about. It occupies a seven-acre site and is conveniently tucked away from residential areas alongside West Thurrock Power The new home might not be in the most picturesque part of the world but the site is in an undeniably superb location to cater for the company's needs. The M25 is practically on its doorstep, the Dartford Tunnel is just a couple of miles away and Tilbury is about four miles away. That is significant because Brain Haulage collects more containers from Tilbury than it does from any other dock.
From his plush new office (it is not often that I go to haulage company and perch myself on a leather chesterfield) Larry Kilby told me more about the company's new premises and equipment. But he started by explaining what Brain Haulage actually does at Oliver Road.
Working mostly out of Tilbury Docks and Bruce's Wharf, Grays, the company runs 55 spot hire vehicles and a further 55 on contract (the latter usually being painted in the customer's own livery). Brain's fleet also includes between six and seven hundred trailers, 50 of them tri-axles.
Larry Kilby says that, with so many 20ft and 40ft skeletal trailers on its hands there is no shortage of units available for rental.
"We've got them coming out of our ears at the moment," he says. On behalf of clients like CGM Scandutch, ACT, United Arab Shipping, Lykes Lines, OCL, ACL, Norasia and Maersk, Brain collects incoming containers from Tilbury (or wherever), transports them to the consignee, unloads them and then usually returns the empty boxes to Oliver Road for storage. Here they remain until they are needed for export.
For instance, one of the company vehicles might leave the depot with an empty container, have that same container stuffed at a UK manufacturer's premises then off load the container docks where it will await a sel. Anything from chocole sanitary ware is exported, Larry.
Most containers come int bury fully loaded and, at a date go back out again load, container from Australia fL lamb or butter will, for insti probably go back to Aus loaded with British produce
But there are exceptior that general rule. On the da) I visited the Brain Haulage at Grays, a ship-load of e containers had just arriv( nearby Tilbury from Dubai.
As Larry Kilby succintly — a lot of fully loaded conta go out to Saudi but "they nothing to send back — e sand."
The company's vehicles lected about 250 of those ties in a single day, all of r were returned to the dem inspection, cleaning, and sibly repair. Then they stacked to await their outward journey.
Incredibly, about 70 of . 250 empties will be in ne repair says Larry, large') cause of primitive ham equipment at Saudi. Not th. minds because Brain Ha Services has a 10,00 highly efficient container workshop at the new depot
Able to accommodate 30 (tonne equivalent units) a one time, the works specialises in repairs of GRP and aluminium. The s repairs it carries out are var "It will handle anything f total floor replacement to t pair of a foot by foot dent side of a box," says Larry.
The company is enthu: about its computerised tamer control, stock re tracking and maintenance facility.
"A lot goes into our con. control. As soon as they've inspected on arrival the tomer is warned by telex damage and given an est for the necessary repair that needs to be done."
Again, thanks to its con, the company can supply cu ers with extensive details any one of its containers: IA, arrives at Brain's depot, has come from, the vehicl transported it, etc. once a container is withi perimeter fence, either fo rage or repair, customer rest assured that their box afe hands. The barriers at the ance to Brain's depot are med for 24 hours a day in unction with closed-circuit which further enhances
Jrity.
ght security is all the more assary when it is considered the depot usually holds und 50 containers fully led at any one time. They are ally only on the premises for iort while while awaiting to iut on a vessel.
asked Larry why all the ded boxes remain "on els".
"hey stay on the trailers be;e we only lift empty conars here. We don't have a lift (they're too expensive) only hold them for a week or nyway."
le 7.5-acre site has around acres of land solely devoted ;torage, mostly s,hort1. The site can handle about 0 containers but there are ally far less than that being ed on an "average" day.
Ve have about 800 on averBut as fast as we get them e use them for export collecin other words they go again to be loaded with olate, plasterboard or what
• and are then shipped out of ....ountry again."
-ain Haulage has an allign vehicle fleet comprising lies (111s, 112s, & 142s) ros and Dafs. It is currently -ating around 20 38-tonne cs, (Volvos, Scanias and s) which are, so far, proving
to be successful, says Larry.
"We're getting more and more enquiries with them. They seem to be particularly popular with reefer cargo, too."
Maximum weight vehicles are also proving to be useful with imports like potatoes from Israel and Scandinavian canned lager, says Larry.
Brain Haulage has its friendly rivals in the region (like Harris Haulage and Drapers Transport) but no one works on the same mammoth scale. Brain's operation employs more than 200 people, about 150 of those being drivers. Its vehicle workshop works a three-shift system so that downtime is kept to a minimum and its workshops are "possibly the most modern in the South of England."
It is interesting to note that Brain — a busy, forward thinking company that is essentially in the haulage business — finds no need for the Road Haulage Association but does, however, subscribe to the Freight Transport Association.
Larry Kilby; "We're not an RHA member any more because we felt they did nothing for us. During the drivers' strike (January '79) they did nothing and were, quite frankly, a waste of time. We carried on with the FTA in a small way, use it for what we need and are fairly satisfied."
Something Brain Haulage is far from satisfied with is the amount of money it contributes towards the Dartford Tunnel. Being almost on top of the northern end of the tunnel, Brain Haulage thankfully does not have to use it to get to Tilbury. But the company does use the tunnel (or tunnels to be more precise) frequently, and pays highly for the privilege.
"It costs us £450 every three weeks in toll fees, and that is just for this depot," says Larry who by now accepts that nothing can be done to abolish the fees.
He is, though more excited about the M25 which is, or will be, toll-free of course.
"It will be very important to us when it's finished. Driving time will be cut down and there will be a tremendous link from Tilbury to the north."
Brain Haulage has diversified, but as I said, prefers to specialise in the storage, transportation and repair of containers. Larry Kilby summed up the Brain philosophy.
"We concentrate on what we're good at."