Nner-drivers feed ruling crocodile
20th August 1983
Page 22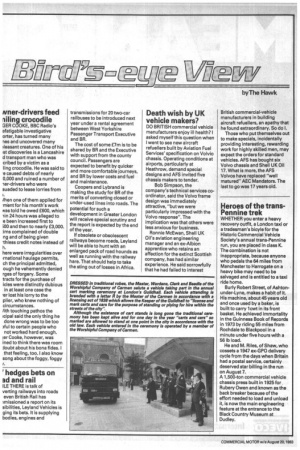 Page 22, 20th August 1983 —
Nner-drivers feed ruling crocodile
Close
GER COOKE, BBC Radio's efatigable investigative orter, has turned many les and uncovered many )Ieasant creatures. One of his .st discoveries is a Lancashire d transport man who was cribed by a victim as a ling crocodile. He was said to 'e caused debts of nearly 0,000 and ruined a number of ler-drivers who were suaded to lease lorries from /hen one of them applied for merit for his month's work was told he owed £600, which lin 24 hours was alleged to e been increased first to i00 and then to nearly £3,000. :ims complained of double ng and of being given Thiess credit notes instead of h.
here were irregularities over rnational haulage permits, ch the principal admitted, ough he vehemently denied rges of forgery. Some tracts for the purchase of icles were distinctly dubious in at least one case the 'er lost his lorry to the plier, who knew nothing of circumstances.
/Rh touching pathos the icipal said the only thing he done wrong was to be too )ful to certain people who not worked hard enough. ler Cooke, however, was ined to think there was room Joubt about his bona fides. I that feeling, too. I also know song about the foggy, foggy t.
'hedges bets on ad and rail
ILE THERE is talk of verting railways into roads even British Rail has imissioned a report on its sibilities, Leyland Vehicles is ging its bets. It is supplying bodies, engines and transmissions for 20 two-car railbuses to be introduced next year under a rental agreement between West Yorkshire Passenger Transport Executive and BR.
The cost of some £7m is to be shared by BR and the Executive with support from the county council. Passengers are expected to benefit by quicker and more comfortable journeys, and BR by lower costs and fuel and maintenance.
Coopers and Lybrand is making the study for BR of the merits of converting closed or under-used lines into roads. The potential for such a development in Greater London will receive special scrutiny and the report is expected by the end of the year.
If obsolete or obsolescent railways become roads, Leyland will be able to hunt with an enlarged pack of road hounds as well as running with the railway hare. That should help to take the sting out of losses in Africa.
Death wish by UK vehicle makers?
DO BRITISH commercial vehicle manufacturers enjoy ill health? I asked myself this question when I went to see new aircraft refuellers built by Aviation Fuel Services' specification on Volvio chassis. Operating conditions at airports, particularly at Heathrow, demand special designs and AFS invited five chassis makers to tender.
Bob Simpson, the company's technical services coordinator, said the Volvo frame design was immediately attractive, "but we were particularly impressed with the Volvo response". The implication was that others were less anxious for business. Ronnie McEwan, Shell UK Oil's aviation engineering manager and an ex-Albion apprentice who retains an affection for the extinct Scottish company, has had similar experience. He said sorrowfully that he had failed to interest British commercial-vehicle manufacturers in building aircraft refuellers, an apathy that he found extraordinary. So do I.
Those who put themselves out to make specials, incidentally providing interesting, rewarding work for highly skilled men, may expect the orders for standard vehicles. AFS has bought six Volvo chassis and Shell UK Oil 17. What is more, the AFS Volvos have replaced "well matured" AEC Mandators. The last to go was 17 years old.
Heroes of the transPennine trek
WHETHER you enter a heavy recovery outfit, a London taxi or a tradesman's bicyle for the Historic Commercial Vehicle Society's annual trans-Pennine run, you are placed in class K. The combination is not inappropriate, because anyone who pedals the 64 miles from Manchester to Harrogate on a heavy bike may need to be salvaged and is entitled to a taxi ride home.
Burly Robert Street, of Ashtonunder-Lyne, makes a habit of it. His machine, about 45 years old and once used by a baker, is built to carry lcwt in its front basket. He achieved immortality in the Guinness Book of Records in 1973 by riding 55 miles from Rochdale to Blackpool in a minute under five hours with a 56 lb load.
He and M. Riles, of Shaw, who cossets a 1947 ex-GPO delivery cycle from the days when Britain had a postal service, certainly deserved star billing in the run on August 7.
A 1,500-ton commercial vehicle chassis press built in 1925 for Rubery Owen and known as the back breaker because of the effort needed to load and unload it, is now the main engineering feature at the entrance to the Black Country Museum at Dudley.